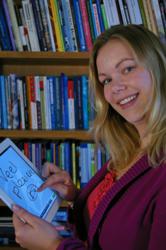 (PRWEB) October 26, 2011
Autography LLC announced its international expansion today with the introduction of Dutch author Natasja Oosterloo's title 'Twitter Jezelf Naar Een Baan' (Twitter Yourself a Job). This is the first non-English title and first overseas author supported by the personalized ebook retailer.
Autography is a St .Petersburg, FL based media technology firm with a patent-pending system for autographing ebooks and other digital media. Ranging from a simple autograph to a personalized picture with the author, consumers can export the signature page out to Facebook or Twitter if they desire.
"Particularly in a digital world, authors are looking for new ways to truly connect to readers by creating something that is really unique. Autography offers us the opportunity to establish a direct and personal contact between an author and their readers," said Wiebe de Jager, CEO of Eburon Academic Publishers.
Autography adapted their system to accommodate a non-English ebook and provide customers purchasing options with several foreign currencies. Authors with multiple language versions of their ebook can also now quickly choose among them to personalize a reader's ebook in their preferred language on demand.
"Especially in Europe, authors need to reach readers in languages other than English. They don't want to force customers to buy in U.S. dollars," said Autography CoFounder Tom Waters. "Authors like Natasja could be among the first international literary brand-names in digital publishing."
Allowing authors to extend their brands internationally was an early goal for Autography. An ebook signing trial with RTE Radio in Dublin, Ireland via Skype demonstrated the concept was sound. Popularly called a 'trans-media' event, it interlinked the publishing, radio, and social media spheres while circumventing travel costs, time zones, and currency barriers.
About Eburon
Eburon Academic Publishers offers a comprehensive publishing service to societies and individual researchers wishing to outsource management of their publications yet retain editorial control and ownership. Since 1983, it has published over 1600 monographs, theses, dissertations, and other academic publications. Wiebe de Jager is CEO of Eburon Academic Publishers and Founder of eReaders.nl, the Netherlands' most popular community on digital reading. (http://www.eburon.nl 31-15-213-1484)
About Autography
Autography LLC is a media technology company headquartered in St. Petersburg, Florida. The firm features a patent-pending method for inserting an autograph or other personalized salutation into an e-book or other digital media. The system works with all popular eReader devices. The company was cofounded by author TJ Waters and technology executive Robert Barrett in May 2011. (http://www.autography.com 727-388-1605)
# # #