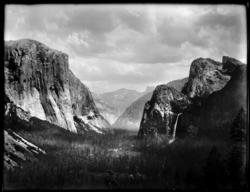 I go back and think about everything that's happened and say, 'Uh-uh. I'm not giving in'- Rick Norsigian
(PRWEB) October 27, 2011
The lead article in the November 2011 issue of Backpacker Magazine, now in newsstands, features a detailed article on Rick Norsigian and the Lost Negatives he discovered at a Fresno, California garage sale. The article documents Norsigian's life as a collector and his unexpected find of the negatives in 2000 containing stunning images of Carmel, San Francisco and in particular, the Yosemite Valley.
The Backpacker article chronicles Norsigian's quest to authenticate the negatives as works by famed photographer Ansel Adams. In 2000, Norsigian visited a local Fresno garage sale, never anticipating what he would discover. "Rick Norsigian wasn't looking for any pictures", the article starts. Nonetheless, tucked into an envelope, hidden inside a dusty crate, were sixty-five photographic negatives. At first, he was simply struck by the beauty of the images, which depict breathtaking American landscapes. As the article recounts, he "recognized an image of Yosemite National Park, the treasure full of lush meadows, roiling waterfalls, and soaring granite peaks".
Months later, after considering the unique dimensions of the negatives, as well as the presence of Adams' friends in the shots, Norsigian started believing they were created by the late, iconic legend. As the article describes, a major clue was scorch marks on eight of the frame edges. Norsigian read about a fire in Adams' biography in 1937 that had torn through Adams' darkroom and portfolio, ostensibly robbing the world of Adams' earlier works. Backpacker questions, "was that simply a coincidence?" Norsigian does not think so.
Convinced that his theory was true, Norsigian began contacting Adams's relatives as well as his colleagues in order to gather their opinions. Backpacker Magazine documents his efforts over the last ten years, as Norsigian doggedly pursued an answer. It also details the team of experts assembled to participate in this authentication project, ranging from handwriting experts to large-format photograph experts to weather experts.
Undaunted by many obstacles, Norsigian continues his research into the negatives' genesis. When asked whether he will give up, Norsigian told Backpacker that some parts of him consider it but then "I go back and think about everything that's happened and say, 'Uh-uh. I'm not giving in'".
Presently, prints of these images are available to be purchased online. According to Backpacker, "people who have never been to Yosemite can look at these photographs and be moved". Those interested in buying prints of these remarkable images may visit http://www.lostnegatives.com.
###