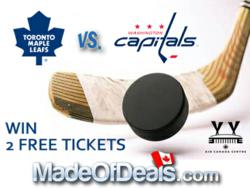 Expect many more giveaways in the near future…
Toronto, Ontario (PRWEB) October 27, 2011
MadeOfDeals.com launches new Toronto Deal site offering up to 90% off of local products, services, restaurants, spas and more! And as a kick-off gift they are offering all users who sign up for a free account the chance to win NHL tickets to the hottest game of the season… Toronto Maple Leafs vs. Washington Capitals!
"Expect many more giveaways in the near future…" says Co-Founder Ron Bercovitch. From his research, he found that most Torontonian's love great deals! But what sets MadeOfDeals.com apart from other deal sites? It's that they are 100% local and are focused on showcasing great new things in their city by serving unbelievable Toronto Deals – the best, local bargains for Torontonians.
MadeOfDeals.com constantly scans the Toronto scene to bring the best Toronto Deals out there, straight to peoples email every day! "It's easy to get lost in all the clutter of other deal sites that cater to the world … Focus is important… And by being focused on the best products and services Toronto has to offer, everyday, MadeOdDeals is able to bring subscribers the best rated products and services at a fraction of the cost!" says Co-Founder, Ron Bercovitch.
To stay updated on all Toronto Deals, subscribe at http://www.madeofdeals.com today to automatically be entered into a draw to win tickets to the most talked about hockey game of the season! – For all the Toronto Maple Leafs fans in the city, game on!
To learn more information about MadeOfDeals and how to win hockey tickets, visit http://www.madeofdeals.com
###