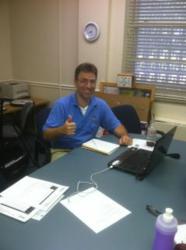 Kennesaw, GA (PRWEB) October 26, 2011
RazorInsights today announces that Alliance HealthCare System in Holly Springs, Mississippi is the first hospital in the state to receive a Medicaid incentive payment for making the transition to a certified electronic health record. Alliance HealthCare System has accomplished this through the adoption of RazorInsights' ONE-Electronic Health Record™ (2011/2012 ONC-ATCB).
CEO of RazorInsights, Edward Nall, proudly says that their exclusive Full Measure Support™ service and intuitive EHR design have been the main contributing factors to Alliance's fast-track success. "We are extremely excited that Alliance is beginning to reap the financial benefits of EHR adoption. We have worked with them, side-by-side, throughout this process and have been overwhelmed by their staff's engagement with our solution," he says.
Alliance HealthCare System began using ONE-Electronic Health Record™, thereby starting the attestation period required to show 'meaningful use', in less than 30 days after its selection. Nall went on to say that it came at no real surprise to learn that Alliance was the first hospital in Mississippi to receive an incentive payment.
Hospitals are eligible for Medicaid and Medicare stimulus payments over the next three years as part of the HITECH provisions within the American Recovery and Reinvestment Act (ARRA) passed into law February 18, 2009. The overall goal is to develop a nationwide health information exchange infrastructure, thus improving patient safety and overall quality of care. The incentive payments are extremely beneficial to community hospitals, such as Alliance, in being able continue these advances in patient care even when funds are tight.
About Alliance HealthCare System:
Located in Holly Springs, Mississippi, Alliance HealthCare System is a 40 bed acute-care hospital serving the residents of Holly Springs and Marshall County. Services provided include: 24 hour emergency care, Occupational Therapy, Psychiatric Care, Surgery, Outpatient Services, and diagnostic services including X-ray, Cat Scan, and Ultrasound. For more information regarding Alliance HealthCare System, please call 662-252-1212.
About RazorInsights:
Based in Kennesaw, Georgia (in the metro Atlanta area), RazorInsights is a new, dynamic healthcare information technology company. In keeping with the principle of Occam's razor, they have created a simplified healthcare technology solution for hospitals called ONE-Electronic Health Record™. Residing on a single, integrated database, this cloud-based solution offers a simple user experience with cutting-edge clinical tools and industry-standardized data. Hospitals can expect to improve their performance and bottom line with ONE from RazorInsights. For more information, visit http://www.razorinsights.com or call 770-308-4111.
# # #