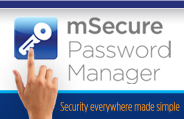 All around, I'm hard-pressed to find anything I don't like about mSecure. - P.J. Connolly
Portland, OR (PRWEB) October 31, 2011
In his review of mSeven Software's mSecure Password Manager, eWeek's P.J. Connolly remarked, "All around, I'm hard-pressed to find anything I don't like about mSecure." Mr. Connolly, an esteemed technology journalist with over 132 articles and reviews to his credit, concluded, "In short, I'm impressed enough with mSecure that I may finally throw away that notebook I've kept for the last 15 years." eWeek.com is a leading tech-industry newspaper and portal that has extensive array of reviews and news reports on technology products.
In his article, "Cloud Support Makes mSecure Outstanding", Mr. Connolly discusses his desire to move all his passwords and other personal information from his small notebook and sticky notes onto his computing devices in a safe and secure fashion. "mSecure is more than just a password manager. It's designed to take all sorts of personal data—from credit card numbers to clothing sizes—and put into a secure, replicable data store."
About mSecure
mSecure for iOS is available via the iTunes App Store as a Universal app for iPhone, iPad and iPod Touch. mSecure for Android is available in the Google Marketplace, Amazon App Store and Verizon Media Store. The price of mSecure for iOS and Android is on sale for $6.99 during an introductory period after which the price will be $9.99.
mSecure for Mac OS is available in the Mac App Store for $14.99 and mSevenSoftware.com, where the Windows version is also available, both for $19.99 each. A $5 off coupon for mSecure MacOS/Windows is available to mSeven Software Facebook fans (not applicable on Mac App store). Details on this special offer can be found on the company's Facebook page at http://facebook.com/mSevenSoftware.
mSecure continues to be held out as an industry-standard in password and personal information protection for mobile and computing devices. mSecure uses ultra-secure 256-bit blowfish encryption to protect personal information such as account numbers, usernames, passwords and more. mSecure provides seventeen popular personal information templates with the ability to create custom templates to facilitate easy entry of user information.
About mSeven Software
Based in Portland, Oregon, mSeven Software has developed and supports mSecure and several other applications for the iOS, Android, Mac OS and Windows platforms. As a leader in the productivity category, mSeven Software operates on the principle that useful software is "made simple for everyday users."
For more information:
Contact: David Pfeiffer
Phone: 262-968-1940
Email: dave(at)msevensoftware(dot)com
Web: http://msevensoftware.com
Video: http://www.youtube.com/v/mmVQb9NIxHE?rel=0
Google, Google Android, Apple, iPhone, iPad, iPod and Windows are either registered trademarks or trademarks of Google, Apple and Microsoft Corp. respectively in the United States and/or other countries. mSecure, mGifts, mSevenSoftware, Security Everywhere are trademarks of mSeven Software.
###