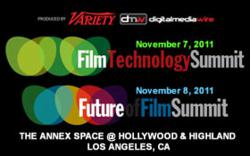 Los Angeles, CA (PRWEB) October 26, 2011
Variety is pleased to announce that Director/Producer Shawn Levy and Director/Producer/Writer Roland Emmerich will be Keynote speakers at its Film Technology Summit on Nov. 7 at Hollywood and Highland's Annex in Hollywood.
The Film Technology Summit, presented by Sony and co-produced by Digital Media Wire, will explore how film production and exhibition is evolving in this digital age, identifying opportunities for enhancing the audience experience. This marks the first day of an extended two day Variety Film Summit 2011, which will include the Future of Film Summit on Nov. at the Annex.
Levy, one our most commercially successful filmmakers, most recently directed and produced Real Steel, which opened at the top of the box office this month. He has also produced and directed the blockbuster franchise Night at the Museum and hit comedy Date Night. He is also currently serving as the executive producer of new ABC series Last Man Standing.
Always pushing boundaries in special effects for film, Emmerich has directed, produced and written many of the biggest-grossing films worldwide. His credits include 2012, 10,000 B.C., The Day After Tomorrow, The Patriot and Independence Day. His next release, the political thriller Anonymous will premiere on Oct. 28.
Variety's Film Technology Summit will feature today's leaders in cinematography, visual effects/CGI, post-production, and other areas critical for cutting-edge movie-making, also spanning such blockbusters as Twilight, X-Men: First Class, The Smurfs, Avatar, as well as highly anticipated 2012 release The Amazing Spider-Man. There will also be elite speakers who are transforming theatrical exhibition through such advanced technologies as 4K projection, higher frame rates and 3D.
Film Technology Summit sponsors include the Consumer Electronics Association,
Fizziology and Cinedigm.
For more information on the summit, please visit http://www.lafilmconference.com.
Additional high-profile speakers include
Wendy Aylsworth, SVP of Technology at Warner Bros. Technical Operations
Bill Bannerman, Co-Producer and Aerial Unit Director (Twilight franchise)
Robert C. Bailey, SVP of Colorworks at Sony Pictures Entertainment
Rob Bredow, Chief Technology Officer of Sony ImageWorks
Oliver Bokelberg, Director of Photography (Win, Win, The Visitor, The Station Agent)
Jill Calcaterra, Chief Marketing Officer at Cinedigm
Curtis Clark ASC, Chairman of the American Society of Cinematographers Technology Committee
Grover Crisp, Executive Vice President, Asset Management, Film Restoration and Digital Mastering for Sony Pictures Entertainment
Chris deFaria, EVP of Digital Production at Warner Bros.
Hank Green, VP of Film Programming and Special Initiatives at AMC Theatres
Guy Hendrix Dyas, Production Designer (Inception, Robocapacalypse)
Steven Fierberg, Director of Photography (Ten Year, The Oranges, Love and Other Drugs)
Cary Granat, Chief Content Officer at Reel FX
Robert Heiber, VP of Audio at Chace Audio by Deluxe
Richard Hollander, Senior Visual Effects Supervisor at Rhythm and Hues
Andrew Kalas, VP of Archives at Paramount Pictures
Peter Lude, President of the Society of Motion Picture and Television Engineers
Henri Mazza, Chief Creative Officer at Alamo Drafthouse Cinema
Josh McLaglen, Executive Producer and First Assistant Director (Real Steel, X-Men: First Class, Avatar)
Chris Miller, Director of Puss in Boots.
Erik Nash, Visual Effects Supervisor for Digital Domain
Marti Noxon, Writer of Fright Night and I Am Number Four/Executive Producer of TV's Buffy the Vampire Slayer
Cliff Plumer, CEO of Digital Domain Productions
Steven Poster, ASC, Director of Photography and National President of the International Cinematographers Guild (ICG)
Steven Quale, Director of Final Destination 5
Raja Gosnell, Director of The Smurfs
John Schwartzman, ASC, Director of Photography (The Amazing Spider-Man, Night at the Museum: Battle of the Smithsonian)
Apurva Shah, Supervising Technical Director on Cars 2
Tim Smith, VP of Strategic Business Development at Sony Digital Cinema Solutions
Steve Sullivan, Director of Research and Development at Industrial Light and Magic
Jim Whittlesey, Senior VP, Digital Cinema Technology at Deluxe Digital Media
About Variety
Variety is the leading publication for business entertainment news, recognized and respected throughout the world of show business. The Variety Group – Daily Variety, Daily Variety Gotham, Weekly Variety and Variety.com – are all owned by Reed Business Information (RBI), the largest business publisher in the U.S. RBI is a member of the Reed Elsevier Group plc (NYSE: RUK and ENL).
About Digital Media Wire, Inc:
Digital Media Wire is an events, news, and publishing company serving the digital entertainment & media industry since May 2000. Digital Media Wire produces executive forums featuring leading executives in digital media and entertainment. Digital Media Wire also publishes an authoritative daily email newsletter and industry news portal. For more information, please visit: http://www.dmwmedia.com.
###
Contact:
Duan Li
Assistant Marketing Manager
Digital Media Wire
Linda Buckley-Bruno
Publishing Director, Variety
Linda.Buckley(at)Variety(dot)com
323-617-9429