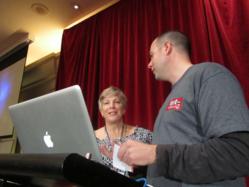 These include best practices for search engine optimization, facebook marketing, domaining, and website design and builds
Sunshine Coast, Queensland (PRWEB) October 26, 2011
In less than 48 hours there will be around 200 people in the main theatre of the Events Centre in Caloundra on the Queensland (Australia) Sunshine Coast.  They have one thing in common:  they all know the value to their businesses, and in the cases of consultants, their clients' businesses, of having a profitable online presence. They are there to learn the strategies involved in creating their own FastWebFomula.
Event manager, Kerry Finch, says James Schramko has gathered real experts in their fields to teach those present the latest cutting edge strategies for online businesses.  
"These include best practices for search engine optimization, facebook marketing, domaining, and website design and builds." said Ms Finch.  "This is fantastic for those from all parts of Australia, from Switzerland, United Arab Emirates, UK, USA and Canada who are flying in to be part of this fantastic learning and networking event."
> Niche experts include:
> Leanne King, known as the Wordpress Queen
> Mike Rhodes, certified Google Partner and Adwords Expert
> James Dyson, design expert and creater of Optimize Press
> Jennifer Sheahan, facebook advertising specialist
James Schramko will be presenting his new 'Mafia Plan' for online business success as well as sharing strategies for successful business creation and leverage.
For those who have not been able to make the journey, James has just announced that he will be offering to wider market the digital recordings of the 3-day event. However, he has also announced a pre-event special for those who purchase before the event begins.
These digital recordings will be available within weeks of the FastWebFormula 3 event, so online business owners, consultants, and marketing services providers, wherever they are in the world, will be able to access the information.
Information on the digital recordings can be found at FastWebFormula 3 Digital
About FastWebFormula3
FastWebFormula 3 is an online business and training workshop hosted by highly regarded business expert James Schramko. Over 3 days, he and his contemporaries, share and discuss the latest trends and cutting edge internet marketing strategies. The event is taking place live October 28-30, 2011 in Caloundra, Queensland, Australia.
About James Schramko
James Schramko started SuperfastBusiness in 2005, and has since become one of the most sought-after Internet Marketing coaches in the world. Author of the tremendously successful Traffic Grab and creator of the Underground Profit Systems and FastWebFormula live event series, his very active and trend setting coaching community attracts the online business experts of the world.
###