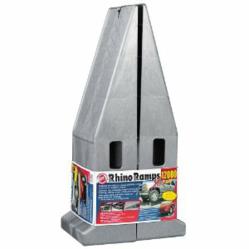 Northbrook, IL (PRWEB) October 26, 2011
Blitz Rhino Ramps®, http://www.rhinoramps.com/will partner with the STA-BIL® Lawn and Garden Mower Racing Series, http://www.letsmow.com, to promote its new line of portable automotive ramps and will support the Sam Rogers U.S. All American Open http://allamericanmowerchampionships.yolasite.com/, November 4-6 in Stevenson, Alabama. The "All American" will bring together lawn mower racers from across the country to honor the late Sam Rogers, a lawn mower racer who recently passed away.
Rhino Ramps® are made of structural foam and are stronger than steel. Designed at a 17 incline, they are suitable for low-profile vehicles and have Core-Trac nonskid feet. Rhino Ramps® comply with ASME PALK 16 and ANSI Z535.4 Standards and are suitable for vehicles up to 8000 lb. GVW (2000 lb. each/4000 lb. per pair). Each ramp is 35" long. x 10-1/2" wide x 8-1/2" high.
The Blitz Rhino Ramp® 12000 features a lift height of 6.5 inches and is for use on vehicles with a maximum of 9.5 inches. The Blitz Rhino Ramp® 8000 has an 8,000 pound capacity, features non-skid feet for safety, is suitable for low vehicles and uses a stop barrier to keep tires from rolling off end of ramp
"Rhino Ramps® are from Blitz USA, so you know the quality is there," said Bruce Kaufman "Mr. Mow It All" President of the U.S. Lawn Mower Racing Association. "Rhino Ramps® are great for cars, pick-ups, sport utility vehicles, vans – and even racing lawn mowers."
The U.S. Lawn Mower Racing Association sanctions and presents organized lawn mower racing across America including the 20-race STA-BIL Lawn and Garden Mower Racing Series and a network of 50 Local Chapters and Affiliated Clubs hosting more than 140 sanctioned races nationwide. Title sponsor STA-BIL is the #1 selling fuel stabilizer that keeps gas fresh in stored power equipment. STA-BIL lawn mower racers compete in seven classes at speeds up to 60 mph with all cutting blades removed:
USLMRA sponsors include STA-BIL Fuel Stabilizer, HEET GasLine Antifreeze, Diesel Power!,104+ Octane Boost, No Leak, Alumaseal, Start Your Engines!, Blitz EZ Lift Rider Ramps and Hand-E Hauler, K&N Filters and Gnomefrenzy.com.
For mow information http://www.rhinoramps.com/.
###