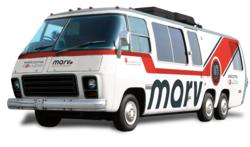 We couldn't be more excited for the growth potential on a national level through this partnership." - Justin Bayer, Founder, Welcome to College
Austin, TX (PRWEB) October 26, 2011
With a mission to revolutionize the college visit experience, Welcome to College has announced a partnership with the rapidly growing social gaming app SCVNGR. The announcement was made yesterday at the HighEdWeb 2011 annual conference in Austin, Tx. HighEdWeb is the annual conference for higher education web professionals who share in a mission to advance technologies and standards in higher education.
SCVNGR, a location based social gaming app located in Cambridge, MA, engages more than 1 million users to check in and do quick, fun challenges at their favorite places. Users of the Google Ventures-backed SCVNGR will earn points and rewards for rating their campus visits on Welcome to College. "The gaming mechanics of SCVNGR bring an entire new level of fun and engagement to the college visit," said Justin Bayer, founder of Welcome to College. "We couldn't be more excited for the growth potential on a national level through this partnership."
SCVNGR works with over 400 colleges & universities and was recently featured in the Chronicle of Higher Education for its work with Dartmouth College admissions and Webster University's orientation. "SCVNGR and Welcome to College really work hand in hand together. SCVNGR uses game mechanics like actualization i.e., 'take a photo in your favorite study in the library' to really help students imagine what it would be like to be a student at a school. Welcome to College wants to help them keep track of these feelings," said Jeff Kircchick, Universities & Independent Schools Specialist for SCVNGR. "This is one of many reasons we will be able to do some incredible things together."
This announcement comes in the midst of very exciting momentum for Welcome to College as the team is traveling the country engaging students with their Mobile Automated Research Vehicle, Marv. The site saw its user base grow by 50% last month and is on pace to continue this growth in October. The company recently signed a deal with Case Western Reserve University in Cleveland, OH to its list of growing partner institutions.
ABOUT WELCOME TO COLLEGE
It's all in the visit. Our mission at Welcome to College is to create innovative experiences and programs focused on the college visit. Our user-driven Web application and College Visits iPhone app help high school students keep track of their visits and simplify an overwhelming process.
About SCVNGR
SCVNGR is a game and playing is easy. Go places. Do challenges. Earn points! That's the core of it, but there's a whole lot more. Discover cool new places. Do exciting new things. Share what you're up to with your friends. Unlock badges (and even real world rewards) by doing quick, fun challenges at your favorite places as you go about your daily life.
###