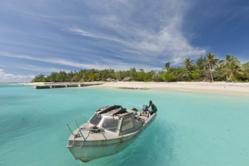 The traditional business model of taking visitors to the Pacific Islands and then simply taking them back home again is unsustainable in the long term as bigger ships and more cruises bring many more tourists to the islands
(PRWEB) October 27, 2011
Carnival Australia, which operates P&O Cruises, today released the line's 2010 Sustainability Report and forecast further strong cruising growth with more than a quarter of a million travellers expected to cruise to the South Pacific in 2013.
Two Carnival Australia cruise brands -- P&O Cruises and Princess Cruises – would together account for 195,000 of the expected visitors, representing a 140% increase in their passenger numbers from 81,800 in 2005.
The two cruise lines between them would conduct 118 cruises to the South Pacific in 2013, nearly double their 2005 schedule of 64 cruises to the islands.
In the light of such strong cruising growth, the P&O Cruises' 2010 Sustainability Report addresses the need to ensure island communities are able to share the economic benefits of sustainable cruise tourism.
Carnival Australia is already working with a number of communities to connect cruising and economic opportunity and to provide a template for tourism-related business ventures that can be introduced more widely across the South Pacific.
Carnival Australia CEO, Ann Sherry, said P&O Cruises was building on a heritage of nearly 80 years of cruising to the South Pacific. The recent surge in cruising had made the region one of the world's fastest growing cruise markets involving obligations for industry participants.
"The traditional business model of taking visitors to the Pacific Islands and then simply taking them back home again is unsustainable in the long term as bigger ships and more cruises bring many more tourists to the islands," Ms Sherry said.
"We have a responsibility to ensure the idyllic destinations and unique island cultures that attract cruise visitors are safeguarded. One of the best ways to do this is to make sure island communities share in the economic benefits of cruising."
The 2010 Sustainability Report features P&O Cruises' local partnerships to improve infrastructure, implement environmental protection plans, and support job opportunities.
Highlights of P&O Cruises' partnerships in the South Pacific include:

Supporting the development of local tourism ventures at Mystery Island and Champagne Bay in Vanuatu, and the Isle of Pines in New Caledonia
Actively recruiting crew from the Pacific Islands on the way to reaching a target of 10% locally recruited staff by 2019
Contributing to the cost of destination infrastructure such as jetties, pontoons and sewerage treatment facilities to support cruising and to reduce environmental impact
Cruise ship visits to the Pacific Islands in 2010 contributed an estimated $A35 million in direct spending such as port fees and services and an additional $A30 million in indirect spending.
By 2020, this contribution is expected to increase to A$100 million annually and up to A$150 million due to the 'multiplier effect' on wider business activities.
Ms Sherry said the growth of cruising required a collaborative approach with the South Pacific and, as the largest cruise operator in the region, P&O Cruises would continue to lead the way.
The Sustainability Report also highlights P&O Cruises' success in minimising its environmental footprint during the year in review.
Fuel consumption per passenger berth was down by 45%, CO2 emissions by 37% and water consumption by 25%, due to new efficiency measures. Ms Sherry said the new report measured progress against the benchmarks set at the end of 2009.
"We have made significant progress over the past year and increased our commitment for 2011 across all areas including economic contribution, passenger experience, people development, community support and the environment," Ms Sherry said.
"Ambitious goals have been set for the year ahead in relation to every aspect of the business and we will continue to be vigilant in measuring progress in order to continually improve our performance."
An e-book of the full copy of the report is available from http://www.pocruises.com.au/sustainability
###