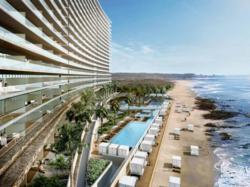 Prospective buyers are advised to operate under normal cautions just as if they were buying a home in the United States - Juan Pablo Arroyuelo
Rosarito Beach, Baja, CA (PRWEB) October 26, 2011
NAOS, a one-of-a-kind $70 million resort at the northern end of Rosarito Beach in Baja California, has set a new standard for safe home buying in Mexico. Despite the state of many of the developments in Mexico, NAOS' recent success can be attributed to the protections it is putting in place for home buyers, according to Max Katz, an American expatriate turned real estate broker in the Rosarito area. NAOS has committed itself to providing protections for home buyers and this has resulted in 36 units sold to date.
Katz says in recognition of what savvy home buyers expect, NAOS puts 100 percent of buyer's money in escrow until the conveyance of title. The development also has established a foundation of legal certainty through its title policy.
"On the coast of Baja, as anywhere, it pays to have a full understanding of any real estate transaction," stated Edward Rosales, an attorney who specializes in purchasing real estate in Mexico. "The best way to look out for your interests is to make sure the builder has an open process and minimizes risk to the buyer. A good example of this is NAOS, which is an open book when it comes to the construction process and operates with very high standards."
Max Katz, who's Baja Real Estate Group is handling sales and marketing at NAOS, says the key advantage for Americans buying at NAOS will be the safety of their down payment.
"The first priority at NAOS is safety and security, especially when it comes to buyers' investment dollars," Katz noted. "There is a misconception that purchasing a home in Mexico is a difficult and risky process."
"In recent years, the process of buying a home in Mexico has evolved considerably," he said. "The use of title insurance, escrow, mortgage brokers and other security measures has increased dramatically to encourage buyers from across the border to purchase homes in Mexico."
Juan Pablo Arroyuelo, CEO of Fidelity National Title de Mexico oversees title insurance at NAOS. Fidelity National Title de Mexico currently dominates 72 percent of the title market in Mexico and provides prospective buyers with advice and resources for purchasing a home across the border.
"Prospective buyers are advised to operate under normal cautions just as if they were buying a home in the United States," stated Juan Pablo Arroyuelo of Fidelity National Title de Mexico. "I would urge buyers to ask many questions and make sure to use a reputable company with many years of experience, such as Baja Real Estate Group."
In Mexico, it is not mandatory to have an escrow officer who conducts the complete real estate transaction, but it is strongly recommended to have a real estate attorney, besides the real estate agent, and especially in the private agreement transactions where a public notary will not be involved.
"The advice that I would give to a prospective buyer is to practice due diligence," stated Arroyuelo continued. "Due diligence is not something only real estate professionals should engage in, but the general public as well. For example, if you were in a foreign country to buy real estate, due diligence would be to approach your consulate, research real estate law on the Internet and retain a referred professional with good reputation."
With construction to be completed in March on the first tower, NAOS will comprise 394 homes split into three high-rise towers. Prices start in the low $200,000s for one-bedroom units with a den, on up to $650,000 for a 2,400-square-foot, two-story penthouse.
NAOS also boasts such security measures as assigned resident parking in a controlled-access garage under the residential tower with security surveillance, complimentary valet service, concierge staff services available while in residence and traveling abroad, mail and package receiving with local and international mailing and shipping services as well 24-hour security services.
For more info about NAOS, visit: http://www.NAOSliving.com.
###