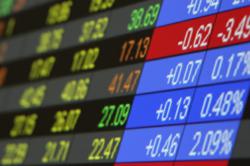 The paltry returns of U.S. Treasuries present anemic alternatives to the stock market at present. Hence why we believe the stock market will head higher for now.
New York, NY (PRWEB) October 27, 2011
Profit Confidential, the popular stock market and economic e-letter, predicts today that prevailing investor and stock advisor bearish sentiment, coupled with third-quarter 2011 corporate earnings that it says will not disappoint the market, will move stock prices higher in the immediate term.
According to Profit Confidential, "We've been writing that, while corporate earnings would slow down from their torrid pace of 2009 and 2010, earnings would not plummet as many 'Johnny come lately recession-predicting analysts' had forecast this summer. Bellwether General Electric Co. (NYSE/GE) reported that it made $3.4 billion in its latest quarter, up 11% from the same period in 2010. Microsoft Corporation (NYSE/MSFT) easily beat analyst expectations, as net income for the company rose 6.1% in its latest quarter to $5.74 billion."
Profit Confidential says that the corporate earnings of GE are telling us that the business segment of the economy is not growing like it did in 2009 and 2010, but the earnings are still growing. Microsoft's earnings are saying that both consumers and businesses are still spending, albeit at a slower pace. And earnings at the world's biggest restaurant chain, McDonald's Corp. (NYSE/MCD), which experienced an 8.6% increase in third-quarter profit, can be interpreted to read that the low-end consumer market is still spending, just at a slower pace.
Michael Lombardi, a lead contributor to Profit Confidential, writes, "Corporate earnings from large businesses like GE, Microsoft and McDonald's are key economic indicators in themselves. Respective earnings growth of 11%, 6.1%, and 8.6% are telling us that growth is still there, but it's not at the 18% earnings growth pace that the S&P 500 was running at just a few months ago. On a backdrop of stable corporate earnings growth, the stock market has few present competitors in respect to other investment alternatives. 'Real estate' is still a dirty word for many investors. The paltry returns of U.S. Treasuries present anemic alternatives to the stock market at present. Hence why we believe the stock market will head higher for now."
Profit Confidential, which has been published for over a decade now, has been widely recognized as predicting five major economic events over the past 10 years. In 2002, Profit Confidential started advising its readers to buy gold-related investments when gold traded under $300 an ounce. In 2006, it "begged" its readers to get out of the housing market...before it plunged.
Profit Confidential was among the first (back in late 2006) to predict that the U.S. economy would be in a recession by late 2007. The daily e-letter correctly predicted the crash in the stock market of 2008 and early 2009. And Profit Confidential turned bullish on stocks in March of 2009 and rode the bear market rally from a Dow Jones Industrial Average of 6,440 on March 9, 2009, to 12,876 on May 2, 2011, a gain of 99%.
To see the full article and to learn more about Profit Confidential, visit http://www.profitconfidential.com.
Profit Confidential is Lombardi Publishing Corporation's free daily investment e-letter. Written by financial gurus with over 100 years of combined investing experience, Profit Confidential analyzes and comments on the actions of the stock market, precious metals, interest rates, real estate, and the economy. Lombardi Publishing Corporation, founded in 1986, now with over one million customers in 141 countries, is one of the largest consumer information publishers in the world. For more on Lombardi, and to get the popular Profit Confidential e-letter sent to you daily, visit http://www.profitconfidential.com.
# # #