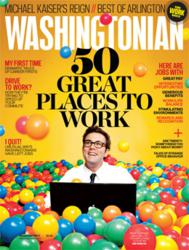 ...we continually seek input from within, and strive to incorporate as many of our team members' requests and desires that we can.
Reston, VA (PRWEB) October 26, 2011
For the second consecutive time, 5AM Solutions, Inc. has been selected as one of Washingtonian magazine's "50 Great Places to Work." Workplaces compete on the basis of such measures as favorable pay and benefits, challenging and interesting work, opportunities to learn and grow, employee work/life balance, financial stability, commitment to charity and community, and recognition of and respect for employees. Winners were chosen after a panel of editors and writers reviewed more than 200 companies and some 13,000 anonymous employee surveys.
"Though we are a for-profit company, we also have what we believe to be an important mission to serve the life sciences and health domains for the betterment of human health," said 5AM President and CEO Brent Gendleman. "We can only be successful in that endeavor if our corporate and employee ambitions are in line. To do this, we continually seek input from within, and strive to incorporate as many of our team members' requests and desires that we can."
Among the Washingtonian's 50 great workplaces, organizations range from just 11 employees to one with more than 68,000, and include trade associations, government agencies, information technology firms, government contractors, non-profits, and law firms. Recipients were recognized in a breakfast celebration on October 20th at the Mayflower Hotel in Washington DC. Published every two years since 1999, this is the seventh time the Washingtonian has selected a "50 Great Places to Work" list. The feature article and full list can be found in the November print issue of the magazine.
Earlier this year, 5AM was also chosen for the second consecutive time by the Washington Business Journal as one of their 2011 "Best Places to Work," was ranked #33 on the Washington Business Journal's Fastest Growing Companies list, and appeared on the 2011 Inc. 500|5000.
About 5AM
5AM is a fast growing, profitable technology company that creates innovative software connecting the worlds of life science and health. 5AM's purpose is to make the internet the place where life science and health professionals work, collaborate, and succeed in serving their customers, partners and each other. The company's web, mobile and analytical offerings for the health IT, research, biospecimen and clinical trial markets are designed to overcome technology roadblocks and accelerate progress toward the ultimate goal of improved human health. For more information visit http://www.5amsolutions.com.
Contact
Kristi Woods
301-788-4236 voice
888-577-8855 fax
kwoods(at)5amsolutions(dot)com
###