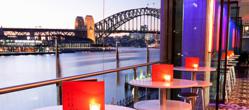 (PRWEB) October 28, 2011
The GHA is a worldwide consortium of over 300 hotels and includes the 45 Mirvac Hotels and Resorts across Australia and New Zealand. Guests of the GHA hotels are invited to join the GHA Discovery Programme which has 3 levels of membership: Gold, Platinum and Black. Each level is determined by the number of eligible nights stay in a GHA hotel and each level comes with an increasing amount of benefits and 'experience' choices.
Gold level is achieved instantly on joining and after the first night's eligible stay, the member will earn their first Gold level 'experience' which can be redeemed on a future stay. Gold level members will also receive free internet access, their choice of newspaper and bottled water. Filling out the member preferences profile will ensure the stay is personalised to suit. Every subsequent first stay in a new brand of GHA hotel will earn a new 'experience'.
After staying 10 nights or more in a calendar year in a GHA hotel the member will move up to Platinum status and instantly earn a Platinum level 'experience'. Platinum status offers all the benefits of Gold status plus a room upgrade, 3pm late checkout, guaranteed room availability up to 48 hours prior to arrival and a local amenity. Additional Platinum 'experiences' will be earned every time the member stays at a new GHA hotel brand for the first time.
Black level status is achieved by staying for 30 or more nights in a GHA hotel in a calendar year. A member with Black level status receives all the benefits of Gold level and Platinum level plus early 9am check in, late 6pm checkout, double room category upgrade at check in, guaranteed room availability 24 hours before arrival, choice of local amenity and varying hotel benefits. Achieving this level gives the member instant access to a Black level 'experience' and additional 'experiences' are again earned each first time the member stays at a new GHA hotel brand.
Mirvac Hotels and Resorts have put together a unique collection of experiences to offer GHA Discovery Programme members. Each one has been designed to give an original 'taste' of local culture and provide an exciting adventure that few other traveller's will ever get to experience. The 'experiences' vary in length, starting from short, 1/2 hour express experiences for the business traveller with little time to spare to full day tours for the leisure traveller.
The range of 'experiences' offered by the Sydney hotels alone is extensive with categories such as Express Experiences, Culinary Delights, Go Discover, Arts & Culture, the Great Outdoors and more and includes things such as the Fort Denison Island Lunch offered by the Harbour Rocks Sydney Hotel, which includes a private water taxi from Circular Quay to the harbour island Fort Denison where the member and a guest will enjoy a two course lunch at Fort Denison restaurant followed by a share cheese plate and then returned to Circular Quay via water taxi. The Sebel Manly Beach, a Sydney hotel on famous Manly Beach, has a Northern Beaches Surf Tour with a photographer while the Q Station, another Sydney hotel in Manly, offers a private Ghost tour. Other rewards offered by Sydney hotels include wine tasting, coffee tasting, VIP access to trendy bars, tickets to live television filming, painting lessons and more.
For more information on the new GHA Discovery Programme visit http://www.mirvachotels.com/global-hotel-alliance.
About Mirvac Hotels and Resorts
Mirvac Hotels & Resorts is part of the Mirvac Group, a leading integrated real estate group, listed on the ASX with activities across the investment and development spectrum. Established in 1972, Mirvac has more than 39 years experience in the real estate industry and has an unmatched reputation for delivering quality products and services across all of its businesses.
###