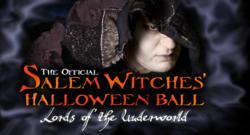 "The Official Salem Witches Ball is an amazing time, very much the show everyone wants to know about when thinking Halloween in Salem. Christian Day and his team create an atmosphere that one would find in Hollywood or Las Vegas." - Ed Hubbard
Salem, MA (PRWEB) October 27, 2011
On Friday, October 28th, starting at 7 PM Eastern, The Young Witches and Witch School will be broadcasting live from the Official Salem Witches Ball, directly to the web via Livestream. The Young Witches is the exciting online reality program following the development of several young Witches in Salem Massachusetts, the Mecca of American Witchcraft. The Young Witches program has already pushed the boundaries of what is possible in contemporary broadcasting by creating actionable video on the Wirewax platform, allowing viewers to click on images directly in the video to get more information about them. This weekend The Young Witches will push the boundaries again by using every social media tool to share the Salem Halloween experience with viewers around the globe!
This will be the only live broadcast of The Official Salem Witches Ball, hosted by The Festival of the Dead. The Official Salem Witches Ball is considered by many to be the Number 1 Halloween Party in the United States, and has been so rated by AOL and TripAdvisor. The Young Witches of Salem will bring the Official Salem Witches Ball to you live on the Internet, to enjoy as it is happening. The broadcast will include the fantastic live entertainment that the Official Salem Witches Ball is known for, including performances by Kellianna and Jenna Greene. It will be a fantastic way to start the long Halloween weekend.
According to executive producer Ed Hubbard, "The Official Salem Witches Ball is an amazing time, very much the show everyone wants to know about when thinking Halloween in Salem. Christian Day and his team create an atmosphere that one would find in Hollywood or Las Vegas. The Young Witches being able to broadcast from the ball is a wonderful opportunity to share this hidden gem to the world".
The Young Witches will also share other Haunted Happenings events as announced through their website, TheYoungWitches.com. They have already posted two introductory episodes, and are launching the full series on November 6th.
To see the broadcasts: http://www.theyoungwitches.com/page/livestream
To discover more about the Ball and The Festival of the Dead: http://www.thefestivalofthedead.com
###