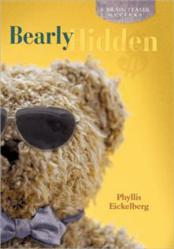 CORVALLIS, OR (PRWEB) October 27, 2011
Akin to the classic female detectives such as Nancy Drew and Jessica Fletcher of "Murder, She Wrote" comes a new entry into the world of super sleuths with Phyllis Eickelberg's, Bearly Hidden: A Brain Teaser Mystery (published by Abbott Press).
Eight years ago, a nasty fall forced Mattie Samuelson to live in an assisted living facility called Silver Pines. She's always maintained that someone pushed her, though her daughter, Heather, chalks it up to a simple slip in the rain.
One fateful day, Heather makes her mother promise to stay in the house and out of Oregon's miserable weather. When Mattie breaks her promise and turns up dead in a suspicious accident, Heather can't forget her mother's ominous belief that someone tried to kill her. Her grief nearly overwhelms her, but she can't let Mattie's death go unresolved. She plunges into her own investigation. Instead of answers, however, she discovers more questions – and more dead bodies.
Heather has always loved puzzles, but this one may be her toughest yet. A missing fortune and a discarded teddy bear are somehow entwined in Mattie's murder, but how? Heather must figure it out and bring order to an assisted living center where assisted dying has become the norm.
"Bearly Hidden is a brain teaser mystery containing puzzles for the curious to solve as they and the protagonist search for answers," says Eickelberg. "The story also has a few quirky characters to provide light-hearted comedy as a back-drop to sister sleuths looking for the answers."
About the Author
Phyllis Eickelberg is a native Oregonian who loves puzzles and mysteries. She lives in Oregon's Willamette Valley with her husband, Jim.
Abbott Press, a division Writer's Digest—the oldest and most respected publisher devoted to the education and advancement of writers—is an indie-publishing imprint dedicated to helping writers bring their literary vision to print. Author Solutions, Inc., a leader in indie book publishing, will fulfill publishing, sales, and marketing services for Abbott Press. For more information, or to begin publishing a book today, log on to abbottpress.com or call 866-697-5310.
###