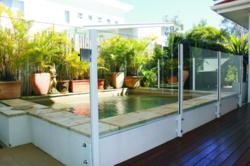 The minor cost involved in having an inspection done is nothing compared to the peace of mind pool-owners have when they know their pool-access is safe
Sunshine Coast, Queensland (PRWEB) October 27, 2011
The next phase of the Queensland Government's pool safety regulations come into force on 4 November, and many pool owners may unwittingly be subject to a fine of up to $2000 simply by not registering their swimming pools.
Registered Pool Fence Inspector, Chris Neech, from Able Pool Fence Inspections, believes that there are many thousands of people in Queensland who own properties with swimming pools, who are not aware that they may soon be in breach of the new regulations.
"Registering a swimming pool is free, and it easy to do." said Chris. "The government simply wants to have a register of where pools are located - there is no other compliance necessary right now for people with pools in the homes they own and occupy."
Pool Fence Safety Certificates will eventually need to be obtained, but owner-occupiers have until 2015 to have their pool fences inspected by a qualified and licensed professional - a requirement for the issuing of the Certificate.
"A lot of my recent clients, however, have elected to have their pool fence inspection completed as part of their pre-summer home maintenance - particularly those who are expecting children to visit over the summer holidays. The minor cost involved in having an inspection done is nothing compared to the peace of mind pool-owners have when they know their pool-access is safe."
For people who are selling, who have tenanted homes, or manage properties with shared pools, like hotels and resorts, it is already compulsory to have had a pool fence inspection, and certificate issued.
"This has been the case since December last year," said Chris "but I've found that often even real estate agents are unaware of the requirement for a Pool Safety Certificate in the sales process."
More information on registering your swimming pool at no charge, seeing the regulation timeline, and obtaining a pool safety certificate is available at http://www.ablepoolfenceinspections.com.au
About Able Pool Fence Inspections
Able Pool Fence Inspections services Brisbane, the Sunshine Coast, the Gold Coast and surrounding areas. Specialising in pool fence inspections for private homes, resorts, hotels and caravan parks, the friendly, courteous Able team, is licensed to inspect swimming pool fencing and issue compliance certificates in accordance with procedures introduced by the Queensland Government which requires all swimming pools to, over time, be inspected by a certified pool safety inspector.
Inspections will require a site visit that may take from 1 to 3 hours. Request a quotation for your pool fence inspection at http://www.ablepoolfenceinspections.com.au
###