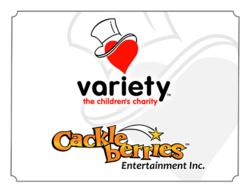 Both Cackleberries and Variety have a special interest in creating a very safe, educational, online play place for children.
Vancouver, British Columbia (PRWEB) October 26, 2011
Cackleberries Entertainment Inc., creators of the safest website for young children has partnered with Variety, the Children's Charity, to create "Variety House" in the Cackleberries virtual world of Oville. The aim of the partnership is to promote Variety's message, increase overall awareness of special needs issues and to expand the donation base for Variety Tents (chapters) around the world.
Cackleberries CEO Eronne Foster says there is a great symbiosis between the aims of Variety and the aims of Cackleberries and that the partnership is a great fit. "Both Cackleberries and Variety have a special interest in creating a very safe, educational, online play place for children. The issues that first come to mind are secure access to and from the website and protection from advertising and conspicuous consumerism. But more importantly, Oville is a world of kindness and understanding. Everyone is accepted and loved in our little world," she said.
In Oville, children ages 3-7 develop their own avatars, which are engagingly interactive and kick start a child's creativity. Children participate in a growing, living world, with houses, streets and communities that evolve around them. The Variety House in the virtual world of Oville will encourage empathy and understanding for children with special needs. "Modern classrooms are fully integrated with children facing various challenges," says Eronne. "Teaching all children as early as possible about the differences we share will help them understand that we also share similarities."
Variety helps thousands of children each year with their special needs and thereby, their freedom, independence and the chance to join with other kids in the community. One of the core targets for Variety funding is mobility. The partnership with Cackleberries will increase awareness and raise additional donations for children with mobility problems. "Variety provides funding for wheelchairs, walkers, van lifts, house ramps, adaptive car seats & strollers, specially-equipped bicycles & tricycles, and other items necessary to increase access to and participation in the community, giving these children more time in the sunshine. Oville's Variety House will be hosted by a little Cackleberry in a wheelchair," says Eronne.
Variety House will reinforce positive attitudes toward kids with special needs. Eronne explained, "Having a special need is only one characteristic of a person. We all have many facets: likes and dislikes, strengths and challenges." Variety House will illustrate that a child with special needs can do many of the things that any other child can do – in an attempt to have fun. It just may take a little longer or require some assistance or adaptive equipment to help them.
Cackleberries' fully interactive virtual site is a living cartoon where scenarios involve right and wrong, caring and sharing and other emotional development lessons that can be shown, experienced and not forgotten. "We are always developing exciting new learning delivery methods which encompass a wide skill set," explains Eronne. "The Cackleberry creators imagined a place for children where everyone is accepted, differences are never feared and innocence still exists. Cackleberries teach acceptance, understanding and caring; and show our young audience how to celebrate, not fear differences; our partnership with Variety International further underlines that vision."
About Variety
Variety – The Children's Charity raises funds and distributes grants to inspire hope, enrich lives and build a better future for children who have special needs. Variety the Children's Charity is an outgrowth of the "Variety Club," a social organization founded in 1927 by 11 men affiliated with the entertainment industry in Pittsburgh, PA. Today, Variety has 43 Tents (Chapters) in 13 countries. Variety has raised over US $1.7 billion for children around the world.
About Cackleberries
Cackleberries is a children's edutainment (entertainment and education) company offering a website, animation, toys, games, music and more. Most importantly Cackleberries introduces young children, three to seven, to the future of education with a dedication to keeping children safe. Cackleberries protects children from the internet with the latest technology, provides family friendly content, and never advertises to children. Children can play for free in the safest online world for young children.
# # #