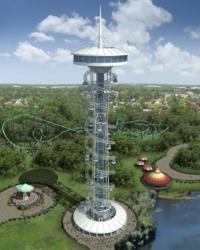 "We are very busy with many attractions, but we are VERY happy that we can now be a leader in the observation market," says Kitchen with the grin that seems to define his ingenuity.
Orlando, FL (PRWEB) October 27, 2011
Kitchen's first foray into business began with broadcast technology where he successfully mastered the construction of very tall broadcast antenna towers. These structures were the inspiration for what he saw as very tall observation rides that require much less real estate than Ferris wheels. The SkySpire™ elegantly rises to great heights and provides guest a comfortable spiraling ride to the top where they can exit to enjoy views in an observation lounge and then ride spiraling gently back to the earth. "SkySpire™ is totally unique and affordable for attraction operators, but most of all, it will be a guest experience that will fully deliver the value of any interesting view," said Kitchen.
SkySpire™ follows Kitchen's patent pending "SkyView™" observation wheel which was introduced in November of 2010 and exclusively licensed to Circle Entertainment SV-I, LLC. Together, patents surrounding the two rides give Kitchen a unique approach in observation attraction technology and his company, US Thrill Rides LLC, is actively commercializing the new design. Several theme parks and venues are pursuing SkySpire™ because it is affordable, requires a very small real estate footprint, and has substantial rider capacity.
SkySpire Advantages
The SkySpire has many advantages over older observation technologies.

It's lower cost to build over a comparable height Ferris wheel.
Each tower design has one or more floors of enclosed observation and/or retail space at the pinnacle, with true 360-degree views.
Patrons will ride to the top of the tower inside fully enclosed climate controlled gondolas, or if the desire there is a glass elevator through the center of the tower. Gondola size and passenger requirements will be spec'd per the customers requirements, from 20-200 gondolas carrying between 6-20 passengers each.
Land requirements are less due to the optimal footprint design, utilizing less real estate than a traditional observation wheel and making it easier to place where land is a premium.
Each SkySpire will have high capacity capabilities, from 1000 to 3000 people per hour.
The patent-pending, double helix track and drive system simultaneously moves gondolas both up and down. Transit time is variable depending on height and speed, from 10 to 30 minutes.
Continuous Walk-on/Walk-off loading and unloading, on both the ground levels and observation levels.
USTR has a track record of looking at expensive attractions and devising much more affordable versions which deliver all of the thrill at a lower cost while maintaining focus on guest safety. From the SkyCoaster™ which fundamentally disrupted the bungee craze in the early 90s and became one of the best-selling and safest rides in the world, to iFly which perfected indoor skydiving for 1/3 of the cost of competitors, to UniCoaster™ which delivers the experience of a looping roller coaster in a very small area, USTR has proven to have a knack for creating the next new and exciting ride that has real business upside for the owner/operators.
When asked where the first SkySpire™ will be erected, Kitchen is careful not to reveal the location or timing. "We will leave that to the direction of our developers," he says. He does mention that his first SkyQuest™ suspended beam ride system has been purchased and will be going into the Indianapolis Zoo next year. "We are very busy with many attractions, but we are VERY happy that we can now be a leader in the observation market," says Kitchen with the grin that seems to define his ingenuity. "Stay tuned, we have gravity, speed, height and physics as our paints on the thrill canvas…we are just getting warmed up."
Founder Bill Kitchen – a history of exciting ride invention.
Bill's first invention was the SkyCoaster, which rapidly became a safe alternative to the then-booming bungee business. Three years later, SkyCoaster was the world's best-selling ride, deployed in nearly two hundred parks; finding their way into Six Flags, Paramount, Cedar Fair, MGM Grand, and at independent operations world- wide. Today, SkyCoaster has had an impeccable safety record, and has exhilarated tens of millions of park patrons both safely and without incident.
Kitchen's next invention was SkyVenture, the indoor skydiving attraction. This virtual free-fall indoor skydiving simulator has been a hit worldwide. The attraction is highly profitable and usually sold out twenty-four hours a day. Some thirty-five SkyVenture's have been installed with amusement ride operators and tourist destinations around the globe.
Next, Kitchen invented UniCoaster, the incredible circular roller coaster that gives all the thrill of a looping roller coaster at 1/5 the price. The attraction has been licensed for manufacture and sales to Chance Morgan Rides, the US's oldest and largest ride builder. It is featured at the Mall of America as Nickelodeon's "Brain Surge". Currently, multiple units are on back-order for this thrilling ride.
About US Thrill Rides
US Thrill Rides products are backed by extensive expertise in developing and manufacturing amusement attractions. This helps to maximize safety and excitement of the rides, while minimizing the clients' park costs. All products are designed to meet the most demanding conditions, such as high winds, heavy loads, and high tolerances for local seismic events. Manufacturing review standards, precision designs, and rigorous safety processes have been developed and refined over a 20-year history. And with 300+ rides installed, you can be assured of the continued quality and safety.
For more information on US Thrill Rides, visit http://www.usthrillrides.com or call our offices at 407-497-4444.
###