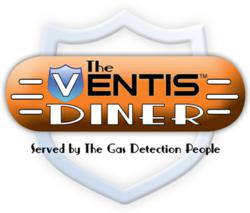 Pittsburgh, PA (PRWEB) October 27, 2011
"The Ventis Diner" from Industrial Scientific will open in Philadelphia, Pa., at the National Safety Council (NSC) Expo on Monday, October 31.
Industrial Scientific's booth (#1323) will be transformed into "The Ventis Diner" as music from the '50s and '60s plays in the background, and visitors are served sorbet by the diner's staff. Booth personnel will be ready to discuss the latest products and solutions from Industrial Scientific including the recently launched Ventis MX4 multi-gas detector, as well as a new, innovative safety solution offered through collaboration between Accenture, AeroScout, Cisco and Industrial Scientific.
Kent McElhattan, chairman of both Industrial Scientific and the Board of Directors of the National Safety Council, will be a keynote speaker at the opening session of the NSC Congress & Expo entitled, "The Pursuit of Continuous Improvement" on Monday.
In addition, Griffin Schultz, general manager of Predictive Solutions, will be joined by Raghu Arunachalam, Ph.D., and Dave Wagner of Industrial Scientific to present a technical session entitled, "Using Data to Drive Change in Your Safety Culture." The session will take place on Monday at 1:00 p.m. in Room 113A. Chuck Pettinger, Ph.D., implementation & change manager of Predictive Solutions, and three of Chuck's colleagues, will also present a technical session entitled, "Mainstream Safety – From the Shallow to the Rapids." This session will take place Tuesday at 1:30 p.m. in Room 121C.
Show attendees can learn more about Predictive Solutions, an Industrial Scientific company, at Predictive Solutions' booth #1421. The expo runs through Wednesday, November 2.
About Industrial Scientific Corporation
Industrial Scientific Corporation is the world's leading provider of Gas Detection as a Service. With more than 850 people working in 20 countries, Industrial Scientific is dedicated to eliminating death in the workplace by the end of this century. Achieving this goal requires dedication to delivering highest quality and best customer service in all transactions. Industrial Scientific also focuses on providing analysis of data from equipment use and maintenance to identify problems before they happen. Industrial Scientific has operations based in Pittsburgh (USA), Arras (France), Dortmund (Germany) and Shanghai (China). The company provides technical services to customers from local service centers around the world, and has additional offices in Australia, Bahrain, Brazil, Canada, Czech Republic, India, Indonesia, Italy, Mexico, Netherlands, Poland, Qatar, Saudi Arabia, Singapore, United Arab Emirates and the United Kingdom. Industrial Scientific is the parent company to Oldham (http://www.oldhamgas.com) and Predictive Solutions Corporation (http://www.predictivesolutions.com). For more information, visit http://www.indsci.com.
About Predictive Solutions Corporation
Predictive Solutions Corporation, formerly DBO2, saves lives by predicting workplace injuries. Its software solutions help track, trend and analyze safety related data. They also employ proprietary models that predict the likelihood, frequency and location of workplace injuries using its customers' safety observation data. In addition, Predictive Solutions delivers consulting services that drive culture and process change within organizations to create sustainable safety processes that reduce injuries. With more than 100 million observations and nearly 40,000 reported incidents from more than 15,000 worksites around the world, Predictive Solutions has emerged as an industry leader in predicting injuries before they occur. Predictive Solutions, based in Pittsburgh, Pa., was founded in 2001 and became an Industrial Scientific company in 2008. Its employees, along with those of its parent company, are dedicating their careers to ending death on the job in this century. For more information, visit http://www.predictivesolutions.com.
###