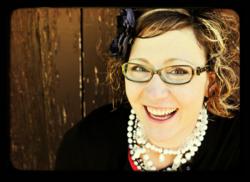 Scrapbooking your family history doesn't need to be overwhelming. Just start with what you know.
Apex, NC (PRWEB) October 26, 2011
Jessica Sprague recently appeared as a special guest on the weekly Paperclipping Roundtable podcast to discuss Family History Scrapbooking. Among the questions: What do you get when you mix genealogy and crafting? How can you approach dry genealogical data with a storyteller's eye? Where does a scrapbooker begin with family history?
Hosts Noelle Hyman and Izzy Hyman invited Jessica Sprague to appear in the October 18th episode as a digital scrapbooking expert with experience in helping others begin researching and recording their own family history.
Jessica is the author of "Stories in Hand", a guide to telling your own and your family stories (available at http://www.storiesinhand.com). She is also the instructor of a self-paced, video-based online class Family History Album, in which students create a digital scrapbook outlining the lives of parents, grandparents, and great-grandparents. The class is available at http://www.jessicasprague.com/index.php?page=shop.product_details&flypage=flypage.pbv.tabs.tpl&product_id=713&category_id=86&option=com_virtuemart&Itemid=403.
"The gorgeous 20-page keepsake scrapbook we create in the Family History class is the foundation for further family history research," said Sprague. "It provides the base from which lots of other family stories can be told, but it's also a bite-sized chunk - a way to begin family history research without becoming overwhelmed."
The entire podcast, humorously titled "I Scrap Dead People" can be found at http://www.paperclipping.com/prt088-i-scrap-dead-people/.
For more information about family history scrapbooking, or for digital scrapbooking online classes, digital printable scrapbooking supplies, and free tutorials, visit JessicaSprague.com.
About JessicaSprague.com:
JessicaSprague.com is the leading website offering online classes and products for digital crafters. Founded in 2006 by world-renowned crafter, scrapbooker, instructor and author Jessica Sprague, JessicaSprague.com provides professionally designed, video-based online classes in Photoshop and Photoshop Elements for customers interested in learning about digital scrapbooking, photo editing, mouse-and-paper crafting, and more. The site's mission is to provide instruction, inspiration, and products to help people grow their skills, beautify their lives, and enhance their relationships with the people that matter most to them. The Web site's offerings include digital scrapbooking paper, digital brushes, digital element packs, lesson packs, weekly tutorials, and online classes in digital scrapbooking, mouse-and-papercrafting, photo editing, and more.
###