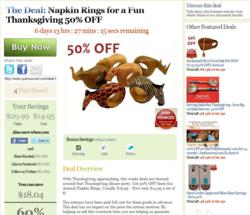 Edgewater, FL (PRWEB) October 28, 2011
In a move to increase sales and accessibility of Fair Trade gifts, Global Crafts launched Just Sourced this week. The site will bring a deal a day to consumers with a price at least 50% off of the retail price.
Founder Kevin Ward, has made it his mission to make Fair Trade gift giving something that everyone can afford. The products are sourced under the auspices of Fair Trade. As a member of the Fair Trade Federation and the World Fair Trade Organization (WFTO), the company is monitored to ensure that it adheres to the stringent principles of Fair Trade. When consumers chooses to give a Fair Trade gift, they are not just giving a unique handmade item, they are also making a statement that they care about the conditions of artisans in the developing world.
Consumers often have to make a choice between following their values and the price of the product. JustSourced.com aims to take price out of the equation.
When asked how they can offer such deals, Ward points out that every industry has overstock and Fair Trade is no different. It is in interest of everyone in the supply chain to create more sales, resulting in more cash flow, rather than sitting on inventory. The extra cash flow generated by these flash sales on specific products enables the company to place more orders with artisans. Ward was also clear that the artisans have already been paid for the goods and are not negatively impacted by the decision to heavily discount the products.
Asked how the first few days had gone, Ward pointed to a Facebook Fan following increasing at close to 100 a day and the fact that every deal so far had made sales.
###