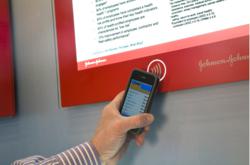 Signbox are thrilled to have been able to offer Johnson & Johnson a single point resource for the design, manufacture and installation of both the Enlighten smart poster and the environmental graphics
(PRWEB UK) 27 October 2011
Signbox has recently completed an installation of innovative Enlighten smart poster displays at the High Wycombe office of pharmaceutical company, Johnson & Johnson. On a prominent wall at the Consumer Healthcare site, Enlighten is the central display feature for the company's Healthy Future initiative.
A total of 11 Enlighten smart posters feature on a double wall spread of environmental graphics replacing the Healthy Future 2010 display, originally installed by Signbox in 2005.
The large format graphics, printed in-house on Signbox's new Durst Fine Art inkjet printer, detail a chronological timeline of the company's journey to a greener future since acquiring the building in 2003.
The collection of illuminated and non-illuminated A3 Enlighten smart posters facilitate the company's pursuit for a more sustainable planet. Not only do the smart posters allow the company to easily communicate a considerable amount of information, they also eliminate the need for printed collateral. Staff and visitors can now download information programmed into the NFC (Near field communication) tag in the poster via a smartphone in a single elegant swipe.
The back-lit contemporary design of the Enlighten smart poster is certainly eye-catching and works to deliver the company's messages on a more sustainable working environment. The Enlighten's ultra-low voltage LED light sheet illuminates with outstanding efficiency that qualifies for ECA's (Enhanced Capital Allowances). By utilising the Enlighten smart poster's energy-efficient light sheet Johnson & Johnson will be in a position to reduce both their corporation tax and carbon footprint simultaneously.
Signbox's Managing Director, Mark Bartlett comments: "Signbox are thrilled to have been able to offer Johnson & Johnson a single point resource for the design, manufacture and installation of both the Enlighten smart poster and the environmental graphics. Enlighten works on many levels to aid the company's objective of a more sustainable future and was the obvious choice over high-powered digital signage."
For further information about the Signbox Enlighten smart poster system or to view details of Enlighten's campaign management platform, Enlighten Me, visit http://www.smartposter.co.
###