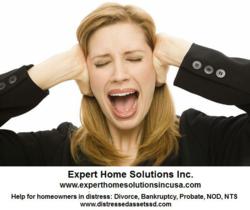 Sellers need a realtor who knows the right tactics that make banks comply.
San Diego, CA (PRWEB) October 27, 2011
In Expert Home Solutions' experience, the real problem is not that the bank will not let you know the least they will accept but that their bottom line is not the true market value of the property.
Banks authorize a BPO done by a real estate agent rather than an appraiser. This value is often incorrect. Sometimes the bank authorizes a drive by BPO. The inside of the property may be highly damaged. If this is a condo where the exterior is maintained well by the association, the value could be 10s of 1000s of dollars too high. If the bank refuses to do an interior BPO, only real estate professionals with experience will be able to save the sale.
BPOs done by a realtor, exclude problems that decrease a property's value. Poor plumbing, roofs, neglected landscaping, electrical are best assessed by a home inspector and are more readily spotted by a professional appraiser. The Susan Davis Bill will not force banks to pay for these.
The best protection for buyers and homeowners is to have an experienced realtor, knowledgeable in comparing properties. If necessary, the buyer should pay for the expertise of professionals to do a cost of repairs. The buyer may want to engage an appraiser who knows the values of amenities. The realtor should have access to these resources and know how to communicate discrepancies to the bank. Realtors need to know the right tactics that make banks comply.
For more answers, get a free Guide for Distressed Homeowners @ http://www.distressedassetssd.com
Mary Ellen Wilson, broker (Lic. #01487433), Expert Home Solutions Inc. dba Expert Home Auctions International, 877-267-2514x7, 877-276-8563 FAX, mewilson(at)experthomesolutionsincusa(dot)com, has been licensed since 2005. Her internet experiences from 1995, prompted her to start EHA online in May, 2009. She has run over 40 auctions.
A complete media kit is available with videos, audio, photos, art, interview questions, and top ten.
###