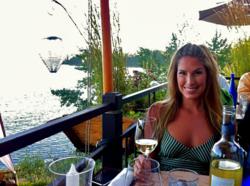 Cooking is an art and patience a virtue... Careful shopping, fresh ingredients and an unhurried approach are nearly all you need. There is one more thing - love. Love for food and love for those you invite to your table.
Santa Barbara, CA (PRWEB) October 27, 2011
Amanda Danvers, a 23-year-old former UCSB student, has created a blog to document and share her love of food. The blog includes Amanda's personal recipes, accompanied with step-by-step directions and beautiful photos. Additionally, she includes her favorite restaurants of each month, in which she showcases the best spots she recently dined at.
Amanda moved from South Orange County to Santa Barbara to attend her dream school – UCSB. She was drawn to Santa Barbara for the same reasons the town has become one of the prime-time vacation spots in the U.S. The town is nestled in-between gorgeous coastline and spectacular mountains, boasts beautiful historic Spanish architecture, and has a laid-back beach town vibe. What she didn't realized at the time of moving, however, is that Santa Barbara is a foodie heaven, containing more restaurants per capita than any other city on the west coast.
Unlike most cooks, Amanda wasn't raised in the kitchen with her family. She began cooking for the first time as a college freshman, and credits everything she knows to watching Food Network. She calls Ina Garten, the Barefoot Contessa, her "idol", who became a mentor on how to cook with ease, style, simplicity, and the best quality ingredients available.
After graduating with a degree in communication, Amanda decided to stay living in Santa Barbara and began waitressing at a local seafood restaurant, Arch Rock Fish. No longer being in school, she took advantage of her free time, and started a blog to express her love of life's simple pleasures. "For me the little things in life are the most special, and nothing makes me happier than a night in with my girlfriends, cooking together and drinking wine." Her blog shares her best recipes, which are easy to recreate for those who aren't experienced in the kitchen, and impressive enough for those wanting to entertain guests. One post includes recipes to throw a backyard barbecue with fresh grilled fish tacos and a stunning black bean, corn and avocado dip. Another post documents her trip to the local farmer's market with recipes using the fresh produce she purchased. Other posts include lightened up versions of delicious baked goods such as banana nut bread and cinnamon apple muffins.
And when it comes to food that is not created in her own kitchen, Amanda knows how lucky she is to be living in a beautiful small town that is full of fabulous restaurants. "From whole-in-the-wall Mexican joints, to gourmet sandwich heaven at Panino, to farm-to-table chef owned restaurants such as Julienne, Santa Barbara really has it all, and trying out new places and new flavors is so much fun."
Her blog is the first step in her goal of working with food as a career. She hopes the blog will not only share her love of food with others, but will also help her continue to learn and improve as a cook. Her next step is to travel, tasting local foods to learn about cultures, and of course blogging about it all along the way.
###