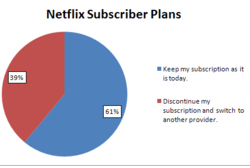 The data – and what happened today to Netflix stock – should demonstrate that companies should never take the loyalty of their customers for granted
Atlanta, Ga (PRWEB) October 26, 2011
Netflix today announced that it has lost 800,000 subscribers, following its recent announcements of price hikes and service changes (which were then followed by a hasty about-face.) However, Polaris Marketing Research Inc. could have predicted that Netflix customers would not be forgiving, in spite of the company's retraction. In our Online American Survey (a monthly online survey of 1,000 American consumers), 67 percent of U.S. online consumers who watch videos by streaming them over the Internet chose Netflix, 47 percent chose Hulu and 49 percent chose YouTube. Among Netflix customers, 35 percent use only the video-streaming service and another 44 percent use both the video-by-mail and the video-streaming service.
However, regardless of the service used, 39 percent said that they planned to discontinue their subscription and will switch to another provider.
"It is important to note that these surveys were completed after Netflix announced their price and service changes, as well as after their retraction. The data – and what happened today to Netflix stock – should demonstrate that companies should never take the loyalty of their customers for granted," said Polaris President Jan Carlson.
Polaris and SSI conducted online surveys with a representative sample of 1,000 American consumers during the week of October 10, 2011.
Founded by Jan Carlson, Polaris Marketing Research is a full-service firm that provides state-of-the-art online interactive marketing research reporting, interviewing and data collection, quantitative and qualitative research expertise and personalized project management.
Atlanta-based Polaris Marketing Research is affiliated with the Council of American Survey Research Organizations, the American Marketing Association and the Marketing Research Association.
Bringing together Survey Sampling International and Opinionology, SSI is the premier global provider of world-leading sampling, data collection and data analytic solutions for survey research. SSI reaches respondents in 72 countries via Internet, telephone, mobile/wireless and mixed access offerings. Value-add services include questionnaire design consultation, programming and hosting, data processing and real-time reporting. SSI serves more than 2,000 clients, including the top 50 research organizations. It has 30 offices serving clients around the world.
###