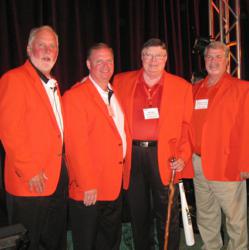 Chicago, Illinois (PRWEB) October 26, 2011
Allied Van Lines, Inc., one of the world's largest moving companies and a subsidiary of SIRVA, Inc., is pleased to announce that all five locations of Carey Moving & Storage, have been awarded its prestigious 2011 Better Together Agent of the Year award. This is the first year the award was presented to a group of commonly owned Allied agencies. The winning locations are in Spartanburg ,SC; Asheville, NC; Charlotte, NC; Greenville, SC and Knoxville, TN. This award was presented at the 2011 Allied National Convention, held October 3-6, 2011 in Myrtle Beach, South Carolina.
"We are delighted and grateful to be recognized as the Allied Better Together Agent of the Year award winner this year by our fellow Allied agents," says Pat Carey, owner of Carey Moving & Storage. "For the last 30 years, we have always helped whoever needed it and hope we can do that for the next 30 years as well."
"Carey Moving & Storage continues to be the role model of what an agent should be," said Bill Lyon, Vice President and General Manager of Allied Van Lines. "When your peers recognize your commitment to helping fellow agents, it is a special award and we're proud that Pat and his team have received this honor."
Allied's Better Together award is voted by previous award winners and given to a deserving Allied Agent who has been especially helpful to other agents within the Allied family. Carey Moving and Storage has been recognized many times throughout the year for the extraordinary work they do for their fellow agents, drivers, and Allied Corporate. As part of their recognition, the winning agent receives a customized award baseball bat and custom fitted orange blazers.
About Allied Van Lines
Established in 1928, Allied Van Lines, with more than 400 agent locations in North America, is an experienced leader in household goods moving and specialized transportation services. Allied is one of the world's largest moving companies and one of the established global brands of SIRVA, Inc., a leader in providing relocation services to corporations, consumers and governments around the world. For more information about Allied Van Lines, visit http://www.allied.com. Allied Van Lines, Inc., U.S. DOT No. 076235
About Carey Moving & Storage, Inc.
Founded in 1907, Carey Moving & Storage, with 5 locations in the southeast, has a history of successfully handling household goods moving and office relocations throughout North America and Internationally. For additional information about Carey Moving please go to http://www.CareyMoving.com.
About SIRVA, Inc.
SIRVA, Inc. is a leading provider of relocation solutions to a well-established and diverse customer base around the world. The Company handles all aspects of relocation, including home purchase and home sale services, household goods moving, mortgage services, and home closing and settlement services. SIRVA conducts more than 300,000 relocations per year, transferring corporate and government employees in addition to individual consumers. SIRVA's well-recognized brands include Allied, Allied International, Allied Pickfords, Allied Special Products, DJK Residential, Global, northAmerican, northAmerican International, SIRVA Mortgage, SIRVA Move Management, SIRVA Relocation and SIRVA Settlement. More information about SIRVA can be found on the Company's Web site at http://www.sirva.com.
###