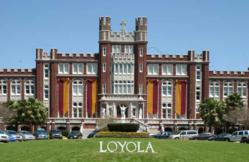 "At Loyola, we have always focused on not just recruiting students, but recruiting families," University President Kevin Wm. Wildes, S.J., Ph.D., said.
New Orleans, La. (PRWEB) October 26, 2011
l publications recently recognized Loyola University New Orleans as being a best value private college and as having a top-rated business school.
Kiplinger's Personal Finance has named Loyola University New Orleans one of the best values in private colleges. Kiplinger ranked 100 private universities and 100 liberal arts colleges that combine outstanding education with economic value. The annual private school report appears in Kiplinger's December issue — on newsstands Tuesday, Nov. 8 — and online now at http://www.kiplinger.com/links/college.
Loyola University and the other schools included in Kiplinger's 2011-12 best values lists represent the colleges that are providing high quality academics, in addition to great cost value even during these tough economic times. These private colleges exemplify the traits parents and students want when looking into higher education options: small class sizes, many financial aid options, high four-year graduation rate and low debt for students after graduation.
This year, Kiplinger adjusted its criteria to better reflect the issues affecting families. Now, the rankings give more weight to the four-year graduation rate-a measure of the college's ability to deliver academic support and of the overall cost to families-and to colleges that keep student debt down.
"At Loyola, we have always focused on not just recruiting students, but recruiting families," University President Kevin Wm. Wildes, S.J., Ph.D., said. "For us to be recognized as a great value by families, especially when so many families are struggling to put their kids through college, is very gratifying and a testament to what a significant value Loyola is in relation to the high quality academics we offer."
In addition, Loyola's College of Business has again been recognized as one of the nation's best business schools by The Princeton Review. The New York-based education services company features the school in its 2012 edition of "Best 294 Business Schools," which hit bookshelves earlier this month. To view the complete list of the "Best 294 Business Schools," visit http://www.PrincetonReview.com.
"We recommend Loyola to readers of our book and our site as one of the best institutions they could attend to earn an M.B.A.," said Princeton Review Senior VP-Publisher According Robert Franek. "We chose the 294 business schools in this book based on our high opinion of their academic programs and offerings, as well as our review of institutional data we collect from the schools. We also strongly consider the candid opinions of students attending the schools who rate and report on their campus experiences at their schools on our survey for the book."
For more information, contact Matt Lambert in the Office of Public Affairs at 504-861-5448 or mlambert(at)loyno(dot)edu.
# # #