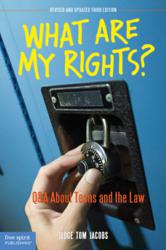 An exceptionally solid guide for teens . . . current and comprehensive
--School Library Journal
Minneapolis, MN (PRWEB) October 27, 2011
Former juvenile judge Thomas A. Jacobs is on a mission--to help teens understand the laws that affect them, empower them to make good decisions, and to educate people about youth rights. Having been on the other side of a courtroom bench for 23 years, he knows that teens have always had a unique relationship with the law, and that the Internet and issues such as cyberbullying and sexting have added new complexity to that relationship. In the revised and updated third edition of his book "What Are My Rights?" (Free Spirit Publishing, $15.99), Judge Jacobs offers answers—for teens, parents, and youthworkers—to more than 100 questions about youth rights and responsibilities.
"What Are My Rights?" answers questions such as "Can I be prosecuted for comments I make online?" "When can I get a tattoo?" and "Why can't I wear what I want to school?" Judge Jacobs draws on examples from real-life court cases involving young people, and uses a straightforward "just the facts" tone to help teens find out more about the laws that affect them, appreciate their rights, and consider their responsibilities.
First published in 1997, "What Are My Rights?" was selected for New York Public Library's "Books for the Teen Age" list, as well as the American Library Association's "Quick Picks" and "Popular Paperback for Young Adults" lists. School Library Journal called the book "an exceptionally solid guide for teens . . . current and comprehensive." The third edition has been revised to include:

a new chapter about youth rights online, from Facebook to file sharing
fresh facts and updated statistics about recent crime rates, notable juvenile court cases, state-by-state laws, and more
new questions and answers about topics including family, school, jobs, growing up, the legal system, and the consequences of breaking the law
a foreword by cyberbullying prevention expert Dr. Jenny Walker
"Think About It, Talk About It" sections to spur conversation about teens and the law
a glossary of legal terms
charts detailing state-by-state laws on school attendance, cyberbullying, and other teen legal concerns
The first chapters of "What Are My Rights?" address parental authority, youth rights at school, and issues of law related to the Internet and jobs. Other chapters discuss rights of a personal nature: dealing with your body and growing up. The final two chapters consider the more somber side of the law—the consequences of willful misconduct or bad judgment—and offer basic information about the legal system.
With questions and answers on over 100 legal topics for teens, "What Are My Rights?" is an essential guide to youth rights in America.
"What Are My Rights?" ISBN 978-1-57542-380-7
Teen Nonfiction / $15.99 / Softcover / 224 pp. / 6" x 9" / for ages 12 & up
About the author
Thomas A. Jacobs, J.D., was an Arizona Assistant Attorney General from 1972 to 1985, practicing criminal and child welfare law. He was appointed to the Maricopa County Superior Court in 1985 and served as a judge pro tem and commissioner in the juvenile and family courts until his retirement in 2008. He also taught juvenile law for ten years as an adjunct professor at the Arizona State University School of Social Work. He now writes for teens, lawyers, and judges. Judge Jacobs also maintains the popular website "Ask the Judge: Answers for Teens About the Law" at http://www.askthejudge.info. He lives in Flagstaff, Arizona.
About Free Spirit
Headquartered in Minneapolis, Minnesota, Free Spirit is the leading publisher of learning tools that support young people's social-emotional health and their educational needs. Free Spirit's mission is to help children and teens think for themselves, succeed in life, and make a difference in the world. For more information, visit http://www.freespirit.com.
# # #