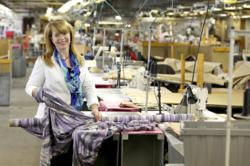 "Businesses need to support the American economy today .....if they can"
Frederick, MD (PRWEB) October 30, 2011
With a thin light wire and a keen eye for fabric blends, designer Ruth Bielobocky has reinvented the fashion scarf. Tyz Scarves embed an ultralight, stainless steel inner wire into scarves so that they can be styled and will stay in place all day.
A woman-owned business, the designer is proud that her new venture is all-American, born in Maryland, and manufactured in York, PA by Dallco Industries, a family owned business since 1923. "That's very important to me," said Bielobocky. "Businesses need to support the American economy today if they can"
"I'm a scarf wearer, and I've always been frustrated by the fact that I can never get them to stay in place around my neck," she said. Bielobocky sewed a light wire into a scarf seam one day, loved the results, and Tyz Scarves was born. "These scarves not only look nice, but they stay where they're supposed to while walking, working, and moving around in your busy life," said Bielobocky.
Materials are all sourced and scarves are sewn in the U.S. The Tyz Boutique is available online at http://www.tyzscarves.com. Scarves are 10" x 58", and each design is limited. A U.S. Patent is pending.
Background:
Designer and inventor Ruth Bielobocky created Tyz Scarves in 2010. A dedicated scarf wearer, she became with scarves that don't stay put. So Bielobocky embedded wire into the seams of a scarf, combined fabrics for different looks in one scarf, and discovered a whole new way to accessorize with beauty and dependability. The company offers limited edition scarves in several fabric combinations and options. Key to manufacture is having the scarves sewn by a U.S. company. The Tyz© Boutique at tyzscarves.com is a woman-owned, U.S. business.
# # #