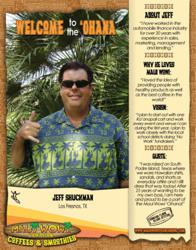 "I love the idea of providing people with healthy products, as well as the best coffee in the world!" said Shuckman.
Greenwood Village, CO (PRWEB) October 27, 2011
The shores of South Padre Island just got a little sweeter with the tropical tastes of Maui Wowi Hawaiian, http://www.mauiwowifranchise.com. The gourmet Hawaiian coffee and fresh fruit smoothie franchise company will soon be serving up the 'Aloha Spirit' with the announcement of their newest Franchisee, Jeff Shuckman of Los Fresnos, TX!
"I love the idea of providing people with healthy products, as well as the best coffee in the world!" said Shuckman.
As a single father, Shuckman struggled to find a balance between the corporate lifestyle and making time for family. He spent 20 years in the automobile finance industry doing everything from sales to management but always felt there was something missing from his life. When a friend suggested he look into Maui Wowi, he jumped at the chance for an opportunity to start his own business.
"I decided I wanted to be my own boss and have a lifestyle that could afford me the opportunity to spend quality time with my daughter," said Shuckman.
The flexibility and variety of business models that Maui Wowi Hawaiian offers, will allow Shuckman to be as busy as he wants to be and still have time for 'Ohana, or family. He plans to start out with a mobile unit called a Ka'anapali cart where he can blend up all natural, fresh fruit smoothies at events and venues and get actively involved with his local school districts doing fundraisers.
After years of searching for the perfect fit, Shuckman has finally found it. "I was raised on South Padre Island, Texas where we wore Hawaiian shirts, sandals, and shorts as everyday attire and I still dress that way today!" he said. "After 25 years of wanting to be my own boss, I am here and proud to be a part of the Maui Wowi 'Ohana!"
About Maui Wowi Hawaiian Coffees & Smoothies:
Before the days of big Hawaiian resort hotels and fiberglass surfboards, surfers spent long, lazy days partaking in the tasty waves of the North Shore beaches. As the legends of the surfers grew, many were drawn to the healthy, carefree lifestyle of Hawaii. Since 1982, Maui Wowi Hawaiian has been spreading the 'Aloha Spirit' across the world with its premium Hawaiian coffees, all-natural fresh fruit smoothies and authentic Hawaiian products. From event carts, mall kiosks and stand-alone retail locations, Maui Wowi Hawaiian operates 575 locations worldwide. For more information about Maui Wowi Hawaiian's flexible, low cost franchising opportunities, visit http://www.mauiwowifranchise.com.
# # #