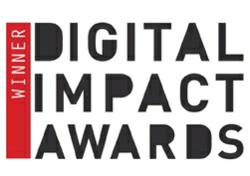 Complementing the awards are two favorable Newsdesk reviews, one recently released from Outsell, Inc. and another published last fall by FreePint Research.
Reston, VA (PRWEB) October 27, 2011
Moreover Technologies' Newsdesk global news and social media monitoring, refinement and sharing service has won its third major award this year, a Silver in the Best Evaluation Process category at the second annual Digital Impact Awards in London.
Categories included all aspects of digital communications, ranging from social media to evaluation. The Digital Impact Awards is a leading UK program to recognize and celebrate the best digital communications work for 2011.
Last June, Newsdesk received a Stevie® Award in the New Product or Service of the Year-Media & Entertainment-Up to 100 Employees category at the 9th Annual American Business AwardsSM(ABA) gala in New York City. .
In January, Newsdesk won dual CODiE honors, including first-ever "Best Information Solution" SuperCategory Award and "Best Content Aggregation Solution" award. The CODiE Awards are presented by the Software & Information Industry Association (SIIA), principal trade association for the software and digital content industry.
Complementing the awards are two favorable Newsdesk reviews, one recently released from Outsell, Inc. and another published last fall by FreePint Research.
Newsdesk offers unified portal, near real-time access to 3 million-plus online news and social media sources worldwide (including Twitter via DataSift), forums, syndicated newspaper clippings, and broadcast coverage.
Capabilities include personalized, cutting-edge faceted search, categorization, filtering, sorting, and distribution via newsletters, alerts and automated feeds.
Licensing agreements with DataSift and TVEyes have enabled Newsdesk to further extend its social media prominence, ramp up social influence scoring and sentiment analysis, and add broadcast to the mix.
Earlier this year, Moreover Technologies inked partnership agreements with Cubit Media Research and Precise to further expand presence in the Asia-Pacific Region and UK.
To address all sizes of companies and uses, Moreover Technologies recently rolled out three Newsdesk solutions—Newsdesk Alert, Newsdesk Corporate and Newsdesk Enterprise.
About Moreover Technologies
Founded in 1998, Moreover Technologies is a trusted aggregator of global news and social media, featuring online, print, and broadcast coverage. Through US and UK offices, the firm offers corporate customers worldwide direct access to comprehensive, yet targeted, near real-time business and consumer information from the most read and respected sources. Daily, Moreover Technologies offers unified portal access to 3 million+ news articles and social media posts from 3 million+ editorially vetted sources across 100+ countries, 75+ languages and 800+ searchable industry categories.
Uses include media monitoring, reputation management, issues/crisis management, market & competitive intelligence, industry research, internal communications, PR/Media relations, brand management, content publishing & sharing, and search engine services. Companies working with Moreover Technologies include enterprise corporations, media monitoring & Web analysis firms, search engine providers, partners, information professionals, and portal providers & publishers.
# # #