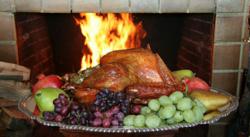 For travelers seeking to spend the long Thanksgiving weekend far from family and football, a bed and breakfast getaway in California may be the perfect escape.
Sacramento, CA (PRWEB) October 27, 2011
For travelers seeking to spend the long Thanksgiving weekend far from family and football, a bed and breakfast getaway in California may be the perfect escape. A number of California inns welcome travelers with crackling fireplaces, lavish Thanksgiving dinners and lodging packages. Several bed and breakfast Thanksgiving specials are listed below; more details and additional specials can be found online at the California Association of Bed & Breakfast Inns' (CABBI) website at CABBI.com.
Savor a traditional Thanksgiving at the Inn at Locke House in Lodi wine country, as featured in Rachel Ray's magazine. The inn's Thanksgiving package includes a two-night stay, two breakfa¬sts, a private wine tasting, a Thanksgiving dinner featuring local products and wines and a CABBI cookbook to take home. The two-night package is $369 per couple for Main House, and $569 per couple for the Tower Suite. Reservations requested by November 5.
On the Mendocino coast, the Country Inn Bed and Breakfast's Thanksgiving Package will have guests giving thanks. The package for two includes three nights at the inn, a home-cooked Thanksgiving dinner and two passes to Mendocino Botanical Gardens. The Thanksgiving menu includes a butter lettuce salad with bacon, cherries and Point Reyes blue cheese, mashed potatoes with turkey gravy, sweet potatoes with homemade marshmallows, Brussels sprouts in a Balsamic vinaigrette, grilled Turkey with stuffing and apple or pumpkin pie. The package price for non-fireplace rooms is $322; fireplace rooms are $442.
What began as an offering to the inns' employees who worked on Thanksgiving Day has evolved into a special tradition for out-of-town guests. The Martine Inn in Pacific Grove offers a traditional Thanksgiving Day dinner--turkey, ham and duck--with all the trimmings, prepared from scratch by Ismael Vizcaya Diaz, the inn's chef for the past 25 years. The tables are set with Gorham Silver from the 1890s, a fire roars in the fireplace and the waves crash outside. Each guest is individually hand-served and then offered additional helpings from the lavish buffet. The dinner price is $48 per person, plus gratuity and tax.
Stay at the Brannan Cottage Inn in Calistoga for Thanksgiving and enjoy a festive, five-course turkey dinner for only $40 per person. The Thanksgiving dinner menu includes hors d'oeuvres, Southwestern corn chowder, turkey, garlic mashed potatoes, dressing, cranberry sauce, mixed vegetables, and a choice of homemade desserts. Non-alcoholic beverages are provided; guests are encouraged to bring wine to share. A two-night minimum stay is required. Stay three nights and receive a 20% discount for the third night.
Through the month of November, guests of the Mount View Hotel & Spa in Calistoga can save up to 25% off their stay--Monday through Thursday--with the inn's Thanks 4 Giving special. For each can of food guests bring, they receive 5% off the room rate, up to 25% off. Guests can also receive up to 25% off a la carte spa treatments any day of the week.
For more information on Thanksgiving specials and other bed and breakfast deals, visit http://www.cabbi.com/specials.
###