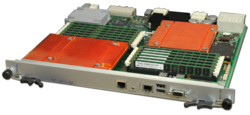 The SB-ATCA7300 complements SANBlaze's broad set of storage and I/O RTMs and is an ideal pairing for the SB-ATCA2000 storage blade family.
Maynard, MA (PRWEB) October 27, 2011
SANBlaze Technology, Inc., a leading provider of embedded storage and computing solutions, today announced the SB-ATCA7300 Intel® Architecture server blade. The SB-ATCA7300 offers scalable, high-performance computing power for tasks that store, process and forward large amounts of data.
Featuring two 6-core Intel® Xeon® processors, and up to 96GB of DDR3 memory, the SB-ATCA7300 delivers true 64-bit SMP computing for faster application execution in both virtualized and non-virtualized OS environments. Its PICMG® 3.1 compliance provides redundant 10 Gigabit Ethernet (10Gbps) connections that are ideal for pipelined packet processing. Multiple on board boot options are available.
"The SB-ATCA7300 complements our broad set of storage and I/O RTMs and is an ideal pairing for the SB-ATCA2000 storage blade family. We continue to meet our customers' requirements/expectations for in chassis, processor and storage solutions that are easily deployed with proven interoperability of ATCA elements." Said Steve Looby, Director of Product Management.
The SB-ATCA7300 conforms to the AdvancedRTM zone-3 definition, making it compatible with numerous ARTM's released by SANBlaze and other 3rd party suppliers. Available ARTM's include extensive options for mass storage including SAS/SATA/SSD disk, multifunction I/O and external connectivity options.
Increasingly, ATCA system deployments mix compute elements, such as Sparc and x86 blades. The SB-ATCA7300's adherence to the ARTM spec enables easier interoperability and the ability to standardize on ARTM's that provide multifunction and storage options across multiple compute nodes. Additional benefits include life cycle management and field service/sparing efficiencies.
For applications where reliability and service level agreements (SLA) rule the day, this blade employs AdvancedTCA® (ATCA®) technologies such as intelligent platform management control (IPMC), redundant power supplies, and dual star fabric interconnect. With ATCA, deployed compute applications enjoy improved serviceability, power and space efficiency over typical rack mount server-based solutions.
About SANBlaze
SANBlaze Technology, Inc. is a leading provider of embedded computing and storage solutions and a pioneer in SAN Emulation technologies. SANBlaze embedded computing products include a complete ecosystem of ATCA storage and compute blades, AMC and PMC storage and networking controllers and modules and a growing line of multifunction RTMs for ATCA blades. Additionally, the company provides fully configured and integrated ATCA systems and services. These products are sold directly to customers in the Telecom, Defense and medical industries, as well as through OEMs.
###