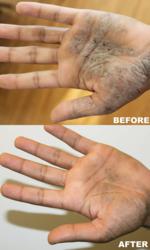 We are delighted to bring this addition to our famous family of skin treatments and to provide a 100% natural choice to millions of Eczema sufferers
Apex, Raleigh, NC (PRWEB) October 31, 2011
Based in nature and supported by science, SKIN all natural™ Eczema treatment offers the unique ability to get relief from eczema without damaging or interfering with the cellular function of the skin. It achieves remarkable results by addressing all symptom of skin eczema including baby eczema:
Eczema refers to several non-contagious dermatitis conditions, such as atopic dermatitis and contact dermatitis, that cause itching, redness and dry skin. Some blister, weep or peel and some are more severe and long-lasting. Eczema can occur in people of all ages. According to the American Academy of Dermatology, 10 to 20 percent of children and one to three percent of adults develop atopic dermatitis (eczema).
SKIN all natural™ brand of Eczema treatment is a non-steroidal cream for fast healing for red, irritated, cracked, itchy and dry skin. This natural remedy quickly soothes burning and redness, helps prevent eczema flare-ups, and helps restore and maintain healthy skin. Plus it provides natural itch relief. "We are delighted to bring this new option to help the millions of adults and children who suffer from eczema," said Sudhir Shah the chief scientist at Choice All Natural, Inc. "Majority of eczema related complaints are for mild to moderate eczema. Having a steroid-free, all natural choice for these patients ushers in a new day in the safe and effective relief from eczema."
SKIN all natural™ is a cosmeceutical brand of Choice All Natural, Inc. a family owned business dedicated to providing high quality, all natural alternatives to beauty, health and wellness consumers. For more information visit http://www.skinallnatural.com
###