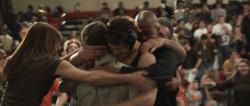 "This isn't a 'deaf' or 'hearing' movie – it's a movie about overcoming challenges and reaching new heights."
Rocklin, CA (PRWEB) October 27, 2011
Purple Communications™, Inc., a leading provider of innovative communications for people who are deaf, hard of hearing or speech-impaired, is proudly sponsoring "The Hammer" film, produced by Film Harvest, TapOuT Films and Fifth Year Productions, and starring deaf actors Russell Harvard and Shoshannah Stern as Matt and Kristi Hamill, and Raymond J. Barry as Matt's grandfather. "The Hammer" opens in theaters nationwide on October 27, and is the first widely-released, open-captioned movie.
The movie tells the story of deaf wrestler, Matt Hamill. Raised by a hearing family, Hamill finds himself an outsider in the Deaf community, but follows his dreams, eventually becoming the first deaf wrestler to win a national collegiate championship.
Hamill, who became a UFC fighter, contributed to the movie, sharing intimate moments of his life. "For me, it's a close retrospective look at myself as a kid struggling to accept myself and being deaf," he said. "It was tough in the beginning, but I grew wiser and came to understand that limits are often self-imposed – the movie reflects my personal growth and understanding of the knocks life sometimes tends to throw."
"We are incredibly proud and honored to sponsor 'The Hammer' film," said Purple Vice President of Sales Mark Bella. "As a deaf individual, this film resonated with me, but what's more is I think it will resonate with anyone who has a dream – that's what excites me about this film, it's not a 'deaf' film, but a film that shows people they have the power to succeed."
Stern said she knew from the beginning this movie was special, not only because of the story, but because of the common themes it addresses. "Whether you're deaf or hearing, I think everyone's always searching for ways to connect with other people and the world around them," she explained. "For deaf people – especially deaf children who may be experiencing similar things that Matt did in the film – I want them to know there are other people out there who get what that's like, and that they can grow up to be superstars."
The movie is also the first to feature open captions delivered to a wide audience. Sometimes viewed as a risk, many producers and distributors don't offer captioning for widely distributed films for fear of alienating their hearing audiences. But as "The Hammer" producer and writer Eben Kostbar points out, this ultimately leads to discrimination among deaf and hard-of-hearing audiences.
"Equal communications access should be a right, not a luxury," Kostbar explained. "This isn't a 'deaf' or 'hearing' movie – it's a movie about overcoming challenges and reaching new heights – one of our goals was to make this movie so that everyone could experience Matt's story. I don't see our decision to make this film open captions 'groundbreaking,' but instead, just the right thing to do."
Stern agrees, adding, "Access is everything – my grandparents weren't able to go to captioned movies because the technology wasn't there. We've come such a long way, yet deaf people today often find themselves in the exact same spot my grandparents were in. We have the technology – use it."
In addition to the movie, Purple is also a proud sponsor of former UFC fighter Matt "The Hammer" Hamill. A Purple legend, Hamill retired from a successful UFC career this August. Hamill owns Mohawk Valley Mixed Martial Arts (MMA), where he continues to train and help future generations achieve what he has accomplished.
For more information on movie locations or to purchase tickets online, click here.
Twitter-friendly Quotes
.@PurpleComm is a proud sponsor of @TheHammerFilm, which opens in theaters across the U.S. October 27 - http://bit.ly/oaD6SU!
.@PurpleComm's @markbella "@TheHammerFilm isn't a 'deaf' film, it's a film that shows everyone that they have the power to succeed."
.@TheHammerFilm actress @Shoshannah7 "I hope this film shows deaf kids they can grow up to be superstars, like @HammerUFC."
About Purple
Purple Communications, Inc. is a leading provider of video relay and text relay services, on-site interpreting services, and video remote interpreting. Offering a wide array of options designed to meet the varied communication needs of businesses and customers, Purple's vision is to enable free-flowing communication between people, inclusive of the differences in abilities, languages or locations. For more information on the company or its services, visit http://www.purple.us. Purple, P3, the hands logo and the Purple logo are registered trademarks of Purple Communications, Inc. Other Names may be trademarks of their respective owners.
###