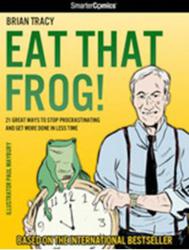 A comic book version of a popular print book is a natural evolution that expands an author's reach to a larger audience.
(PRWEB) October 26, 2011
'Eat That Frog' by Brian Tracy is a book that highlights one of the most common issues for people who are simply getting by when they should be getting ahead: Procrastination.
In his book, Tracy examines the main culprits of procrastination and guides readers towards a call of action. 'Eat That Frog' is a metaphor for taking the biggest and worst task of the day, and tackling it first. He applies the old adage, "If the first thing you do each morning is to eat a live frog, you can get through the rest of your day with the satisfaction of knowing that that was probably the worst thing that is going to happen to you".
'Eat That Frog' theorizes that when people handle smaller, more mundane tasks first they are more likely to waste time and rob themselves of their productivity. Instead of dwelling on the very tasks they are trying to avoid, people should get the worst chores out of the way first. This leads to a sense of true accomplishment, thus leading to more fulfilling and more productive activities.
SmarterComics has taken 'Eat That Frog' and converted it into an 80 page, fully illustrated comic book. 'Eat That Frog' from SmarterComics maintains the integrity of the original book, while focusing on the main objectives in a way that creates a new, shorter and fun to read book in an effort to reach new audiences.
"A comic book version of a popular print book is a natural evolution that expands an author's reach to a larger audience. The comic book is not an illustrated edition of the underlying book. It is a wholly new, shorter, and visually interesting telling of a story that will draw in readers who may not have the time or interest to read through lengthy, text-heavy works," said Jenny Kunz, CTO of SmarterComics (http://smartercomics.com/).
By taking best selling business books such as 'Eat That Frog' and turning them into comic books, SmarterComics can reach new generations of readers. The comic book style illustrations and simplified text makes it easier for readers to engage in reading, saves readers time and helps them to remember concepts longer.
'Eat That Frog' from SmarterComics will take most readers less than an hour to read. After reading the comic book version, readers will understand procrastination and the organization processes to over come it, such as:

How to resist the urge to start with easier tasks, and focus on the positive outcome of handling the biggest challenges first
Understand the differences between activity and accomplishment, and how to actively accomplish goals
Learn organizational and time management skills as well as how to apply them effectively
Readers will be able to purchase the paperback version of 'Eat That Frog' from SmarterComics for $12.95.
Fans can purchase this book and many more at: http://smartercomics.com/EatThatFrog
About SmarterComics:
SmarterComics is a technology driven publishing company based in the Silicon Valley that turns bestselling books into comic books - comics that make you smarter! The company's award winning illustrators bring talent from prestigious comic companies including Marvel and DC Comics, lending a rich graphical style to the SmarterComics library. Many of their scriptwriters and editors have won awards that are equivalent to the Oscars in the comic genre: the Eisenhower and the Harvey Awards.
###