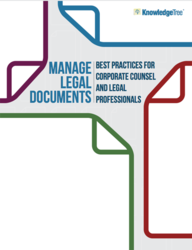 KnowledgeTree helps my team manage critical legal documents .
Raleigh, NC (PRWEB) October 27, 2011
Legal teams face a tidal wave of documents. Thousands of contracts, patents, agreements, and supporting documents are created each month. How can these teams store their legal documents so that they can be easily retrieved? How can they ensure that appropriate reviews and approvals have been completed? And how can they access critical documents from wherever they are – at the office, courthouse, or on the road?
KnowledgeTree has created an informative eBook specifically for legal professionals – within both corporate counsel teams and independent law firms. This eBook explores the challenges of managing the complex legal documents these teams deal with each day and offers useful, practical solutions.
You can download the free legal eBook here.
Informative infographics combine with insightful tips that help teams understand:

How globally distributed organizations, across legal, finance, HR, and more, can collaborate to create new legal documents
How teams can use custom document metadata like 'filing date' or 'account number' to effectively organize legal documents
How managing the approval process for legal documents can avoid the unintended distribution of incomplete contracts
How mobility tools and the cloud make document access simple – from anywhere
KnowledgeTree helps legal professionals boost productivity around the documents they work with:
Smart Tools manage legal documents the way you do business.
Smart Insights discover valuable contract templates and efficiencies.
Smart Teams boost user engagement and legal document quality.
Smart Integrations access and manage documents anywhere – including from within Microsoft Office tools and mobile devices.
Smart Value for IT makes security and technical management a snap.
"KnowledgeTree helps my team manage critical legal documents so we can retrieve files instantly from anywhere," said Alan Freisleben, partner in Khouri | Freisleben LLP. "It is essential that legal documents are well organized and at our fingertips. Inflexible or overly simplistic approaches to filing content leads to lost documents. KnowledgeTree's customizable 'Smart Tags' makes the organization and retrieval of documents easy -- in the office, the courthouse, and on the road."
"Legal professionals face the challenge of too many documents, with too little control," said Daniel Chalef, CEO of KnowledgeTree. "We know that lawyers and corporate counselors need easy-to-use tools that manage document approvals and document organization. That's why our Smart Tools are the choice for legal professionals that want effective document management."
About KnowledgeTree
KnowledgeTree makes documents matter. Orbitz, Miramax, Alcatel / Genesys, Fuji Chemical, and hundreds of other companies use KnowledgeTree to drive productivity by working smarter with documents. KnowledgeTree helps legal, finance, HR, and sales teams easily develop and execute business processes around documents, and drive productivity and actionable insight. KnowledgeTree is headquartered in Raleigh, NC. Find out why Network World called KnowledgeTree one of the 10 SaaS companies to watch. Visit http://www.knowledgetree.com for more information and to download a complimentary eBook.
Tweetables
RT @knowledgetreesw #Legal Teams: how to manage contracts, agreements, and other key documents. Blog & free eBook http://ow.ly/78yr7
# # #