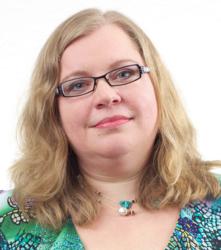 Prescott Valley, AZ (PRWEB) October 26, 2011
Melanie E. Shaw, Ph.D., Director of Curriculum Development at Northcentral University, a 100% online university, is the latest recipient of the Teacher of Honor Award from Kappa Delta Pi, International Honor Society in Education. As the fourteenth recipient of the award this year, Shaw joins a small group of remarkable educators who have been recognized with this honor. "Great teachers change lives by inspiring students to recognize their gifts and to learn how to use them to pursue a worthy dream. Melanie Shaw is one such teacher," said Kappa Delta Pi International President Dr. Nathan Bond.
While Dr. Shaw began her teaching career as an elementary and middle school teacher for Department of Defense Schools in Germany, she has since concentrated her efforts in online higher education. Along with overseeing curricula for the Northcentral University School of Education, she has served as an adjunct faculty member of both Colorado State University Global Campus and Ozarks Technical Community College. Aside from teaching, her efforts include course development, mentoring, and dissertation supervision. "Melanie has been instrumental in injecting progressive methodologies in our online degree programs," said Dr. Clinton Gardner, Northcentral University President.
Dr. Shaw's other initiatives include Vice President/President-elect of the Missouri Distance Learning Association, Executive Editor of the eLearning Institute, and President of Innovative eLearning Solutions. She has written, reviewed, and collaborated on many published articles and books.
At Northcentral University, where she earned an online doctorate degree in education, Dr. Shaw was the founding member of the Alpha Delta Epsilon virtual chapter of Kappa Delta Pi (KDP), where she has served in many capacities, including Foundation Representative, Membership Coordinator, and Counselor. She "has demonstrated both professionalism toward the field of education, guidance of both students and our membership, and continual support of our chapter activities," states Northcentral student and KDP chapter president Nicole Simon. "She has been an asset to our chapter installation and virtual membership worldwide."
Since the award's establishment in spring of 2008, Kappa Delta Pi has named a select few from around the world as Teachers of Honor. This award recognizes both recipients and their schools for the accomplishment. "We are honored to have Dr. Shaw be recognized for her professional development, leadership, community service, meaningful contributions to the education profession, and commitment to integrity and high standards," said Dr. Gardner. "She truly embodies the spirit of this award."
About Kappa Delta Pi
Kappa Delta Pi, International Honor Society in Education, is a not-for-profit organization that supports the professional growth and teaching practices of educators throughout the world. For nearly 100 years, the Society has recognized excellence in education, advanced professional development, provided a reasoned voice for significant issues, and linked learning communities of educators.
About Northcentral University
Founded in 1996, and located in Prescott Valley, Arizona, Northcentral University (http://www.ncu.edu) is an accredited, private, 100% online university serving adult students worldwide. Northcentral's weekly course starts with no residency requirements are designed to meet the needs of busy professionals. Degree programs are customized to each student's interests, and faculty and advisors provide one-on-one guidance to ensure academic success.
Offering bachelor's, master's, and doctoral degrees in business and technology management, education, and behavioral and health sciences, Northcentral is regionally accredited by The Higher Learning Commission of the North Central Association of Colleges and Schools and the Accreditation Council for Business Schools and Programs (ACBSP) supervises the accreditation of Northcentral's School of Business & Technology Management. For more information, visit http://www.ncu.edu or call 1-888-628-2078.
###