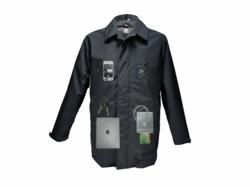 The BlackCoat practically eliminates the need for a small piece of luggage.
Cleveland, OH (PRWEB) October 27, 2011
Koyono Company has reintroduced its famous BlackCoat Classic to delight fashion aware travelers frustrated with the hassle and cost of checking bags at the airport. The sleek, sophisticated garment deftly hides 14 generous compartments, including one perfect for the iPad.
"As a frequent traveler and dedicated technophile I wanted an easier way to carry all my electronic gadgets and personal items—yet maintain a great looking profile," said company founder Jeasung Jay Yoo. "The BlackCoat practically eliminates the need for a small piece of luggage. Bring one carry on and the BlackCoat Classic… and you're good for three-plus days."
Originally introduced in 2003 to considerable acclaim, the BlackCoat Classic was included in the luxury swag chosen expressly for celebrities at the MTV Movie Awards. Several of the famous recipients enthusiastically donned the handsome garment, due in part to its sleek, stealthy lines that enabled travel incognito.
"People love the versatility of the BlackCoat Classic," said Yoo, "It is engineered to simplify the life of everyone who wears it. We've put considerable attention into accommodating all the elements of our complex daily lives and wrapping them in the simple elegance of style, performance and utility. That's why more and more people are so crazy about this one-of-a-kind coat."
See a video of the BlackCoat Classic here.
Availability will be limited for the 2011 holiday season, so consumers are encouraged to purchase early to avoid missing out. Use coupon BCCREDUX and save 25%.
Contact: Jay Yoo | press(at)koyono(dot)com | 216-223-8129
# # #