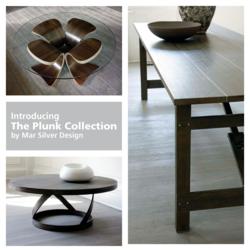 (PRWEB) October 27, 2011
WHEN: Thursday, October 27th from 6:00 pm to 8:00 pm
WHAT: Mar Silver of Mar Silver Design, known for her high-end homes with a serene and sexy feel, introduces the Plunk Collection, a new custom designed furniture line where feminine touches and masculine details come together in modern, sophistication and enchanting luxurious style.
The Plunk Collection features over 20 original pieces, including:

The Tulip Table: Featuring a glass top and unique flower shaped base available in walnut, nero preto, and cerussed oak. The table comes in two sizes, a 60'' dining table or a 48'' cocktail table.
The Spiral Coffee Table: A swirled iron base topped off with a solid wood surface, available in Dovetail grey oak, nero preto, and walnut. Also available in two sizes, 42'' and 38'' diameters.
The Architect's Dining Table: Modern yet elegant, this cerussed oak dining table is available in Dovetail grey oak, walnut, or a variety of custom stains. Also available as a folding table, with satin nickel inlay and sating nickel hardware.
"My furniture blurs the lines between feminine and masculine. The circular coffee table is great example of that. It is a very solid-looking, almost sculptural piece, but the curves add that softness to it, making it a knock-out in any room!" – Mar Silver
WHERE: Artelier, 28 Henry St, Greenwich, CT 06830
WHO: MAR SILVER. A modern luxury tastemaker, known for her ability to masterfully combine a variety of textures and finishes, a neutral color palette, along with mid-century or modern high-end antiques, and large-scale art. Mar brings out the natural, organic energy of a space that ultimately is both well-appointed and well-defined. The result is a masterful mix of high-end interiors that are stylish and chic, with a twist of the unexpected.
INTERVIEW AND PHOTO OPPORTUNITIES AVAILABLE UPON REQUEST.
PRESS NOTE: It's not too late to attend the event!
To secure an RSVP, please email sam(at)tmgpr(dot)com
# # #