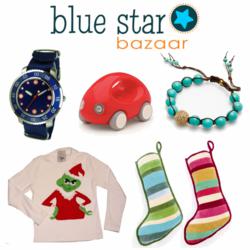 Shopping locally will support local families.
Wilton, CT (PRWEB) October 28, 2011
Blue Star Bazaar is participating in a holiday shopping event on December 3, 2011 to benefit families in Wilton, CT.
The event will take place at 300 Danbury Road in Wilton, CT within the New England Historical Connection (furniture gallery and store). Blue Star Bazaar will be on hand from 10:00 am until 5:00 pm to offer unique gift ideas for women, men, and children. Items include jewelry, heirloom quality toys, scarves, handbags, accessories, and children's clothing.
10% of sales from Blue Star Bazaar throughout the day will support the Wilton Interfaith Fund which grants holiday requests for Wilton children in need. In other words, shopping locally will support local families.
Santa will be available fireside in this rustic New England setting to meet with children and take photos from 3:00 to 5:00. For families that wish to make a cash donation to the Wilton Interfaith Fund, Andrea Topalian (Wilton resident and photographer from "Moments by Andrea") will be on hand to take professional photographs. There is no fee, however, for those that would like to visit with Santa and bring their own cameras.
Also located within the New England Historical Connection, is Babycat Milkbar, owned and operated by Wilton residents Jeena Choi and Frank Kwei. Babycat Milkbar will offer hot beverages, fresh goods from local bakers, and holiday gift sets.
This is a rare opportunity to: visit with Santa in a cozy, quaint setting; find some truly unique gift ideas; taste the flavors of the season; support local businesses; and support local families in need. Please join Blue Star Bazaar for what is sure to be a festive event.
Blue Star Bazaar, founded in 2010 by Megan LaBant Abrahamsen, is an online retailer of unique gifts for women and kids. For those looking for unique gift ideas, Blue Star Bazaar offers a range of products that meet the tough standards of quality, individuality, style, and value. Product categories include jewelry, scarves, watches, handbags, t-shirts, toys, and home accessories. Find the perfect gift at Blue Star Bazaar, headquartered in Wilton, CT.
###