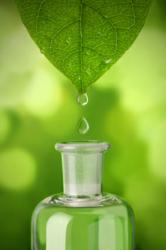 We believe that Alozin will benefit pain sufferers for years to come – both naturally and without any side effects-
San Francisco, CA. (PRWEB) October 28, 2011
Kanwa Minerals, an online natural remedies store, has announced the addition of its latest product: Alozin. Alozin is a pain-relief remedy that comes in an easy-to-use spray form that combines the therapeutic aspects of Methylsulfonylmethane (MSM) and the anti-inflammatory properties of the Chinese herb Boswellia with the pain-reduction benefits of Glucosamine to alleviate muscle and joint pain. Alozin is now available online at http://www.kanwaminerals.com and also available in health food stores across the country.
"We're excited to have developed a product that successfully harvests the innate healing properties of these special ingredients, which, when combined, formulate a wonderful and powerful tool that works in unison to combat pain," said Marie Holmes, Sales Manager. "We believe that Alozin will benefit pain sufferers for years to come – both naturally and without any side effects – which is in step with our overall philosophy that adheres to discovering natural solutions for optimum health and wellness."
Alozin provides temporary relief from minor pains and stiffness associated with arthritis, muscle aches, muscle strains, and simple back aches. Alozin's fast-penetrating, long-lasting pain-relief formula works by leveraging the power of MSM, Boswellia, Glucosamine and another key ingredient, Chondroitin Sulfate, to not only relieve pain and reduce inflammation but also improve overall joint health and wellness.
MSM is a naturally occurring sulfur compound and nutritional component of many foods with numerous therapeutic properties. Boswellia comes from the Boswellia Serrata tree that grows in the dry hills of India. For centuries, traditional Indian healers have taken advantage of boswellia's anti-inflammatory properties. Boswellia offers relief of acute or chronic inflammation associated with pain including: Osteoarthritis, Arthritis, headaches, and Fibromyalgia.
Glucosamine and Chondroitin Sulfate are considered by Homeopathic Physicians to be the most effective natural pain killers. Glucosamine is found naturally in the body. It is considered extremely effective against arthritis-related joint pain and long-lasting relief as it has been shown to re-grow cartilage and slow the progression of joint deterioration.
Alozin also includes the natural anti-inflammatory Willow Bark as well Jojoba Oil and Aloe Vera, which have numerous benefits for the skin.
Other Kanwa Minerals products include: An Ancient Clay Face Wash, an Ancient Clay Body Wash, an Eye Cream, Hydrating Crèmes, Wrinkle Defense lotions, Hair Care products, Natural Toothpaste, and a Mineral Vitamin C Serum.
Kanwa Minerals strives to provide its customers with the highest-quality, purest chemical-free skin care products available on the market today. All Kanwa Minerals products are vegan and free of parabens, aluminum, sulfates, and are formulated using certified organic ingredients whenever possible.
For more information, image requests or press samples, please contact:
Zion Health Inc.
Mysla Pechardo
650-877-7330 x251
###