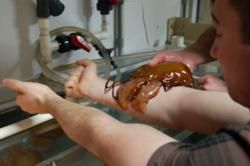 Ocean Care Solutions' Gold standard for marine sting first aid products. Don't get stung without it!
Miami, FL (PRWEB) October 31, 2011
Ocean Care Solutions, specializing in State of the Art Marine Life First Aid Kits, is announcing the addition of a newly formulated jellyfish sting relief solution to their signature line of marine sting products. Ocean Care Solutions' new Jellyfish Sting Relief Solution is the most effective product available for a wide range of jellyfish species including the Indo-Pacific Box, the Caribbean Box, the Lion's Man, the Sea Nettle, and the Mauve. Lidocaine-free, it offers complete topical relief of virtually all stinging marine cells as well as swimmer's itch. In addition it has been found to alleviate bites and stings of many other aquatic and terrestrial insects and organisms. OCS staff strongly encourages every one to seek medical attention after any marine sting while recognizing their product line as the quickest, safest, most convenient, and effective first aid for the consumer and first response medical professionals.
Ocean Care Solutions products have been designed to completely meet medical and marine science first aid protocols for the Man o' War, Sea Urchin, Stingray, Fire Coral and now for jellyfish. "This addition to our already impressive and very effective marine sting line of products is in keeping with our company philosophy to provide the best science based first aid products for the consumer," says Kevin Freeman, President of Ocean Care Solutions. "Our goal has always been to stay on the leading edge of the latest scientific research for marine stings so we can continue to develop, manufacture and upgrade our easy to use, complete first aid kits and jellyfish solution. We rely on the latest medical protocols available to provide the best relief."
Ocean Care Solutions' Jellyfish Sting relief has been tested by life saving professionals in the field, leading marine research scientists, as well as everyday outdoor adventurers, and all with safe, quick, and effective results.
The new high viscosity product has been formulated so it can be sprayed on and stay in place, unlike other products available, to provide immediate and long lasting pain relief. This new, thicker solution with its unique ability to cling to the skin, and immobilizing the jelly's stinging cells for removal, usually can do the job in just one application and this product is Lidocaine-free.
The company produced convenient spray bottles that can fit in any beach bag, first aid kit, tackle box, or BC and come in both a 1oz size for single use or a 4oz family size. Look for the Ocean Care Solutions distinctive Gold foil kits for marine stings and the new Jellyfish Sting Relief Solution online or at retailers.
# # #