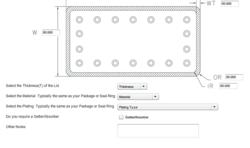 Customers enjoy the convenience and user-friendly interface of the on-line lid generator.
Milford, MA (PRWEB) October 27, 2011
PEI's Lid Generator tool is "the most convenient on-line tool for mechanical and electrical engineers to immediately create professional drawings for lids used in hermetically sealed packages" states Brook Spaulding, PEI's Director of Marketing. An icon on the PEI home page allows for a quick click to the Lid Generator Access portal and then, with simple contact data filled in, the engineer or purchasing department has full access to the drawing tool in under two clicks.
1) Click on Lid Generator Icon in Black Tool Bar
2) Fill in the Lid Generator Access Contact Data
3) Enjoy Full Access to PEI Lid Drawing Tool
"Customers and prospects alike enjoy the convenience and the user-friendly interface," observes Phil Greiner, PEI's Design Engineering Manager, "as we also provide prompts on the many types of materials available for lids from Kovar, Nickel, Stainless Steel to the various types of plating available from Electroless Nickel, Electrolytic Nickel, Gold as well as absorber and getter options."
President of PEI, Chip Lehrer, has always found that "if you give the customer the opportunity to easily source their lids then it also provides an opportunity to discuss our additional capabilities ranging from EMI/RFI shields to lead frames to light diffusers and encoders."
Has anyone asked for a titanium lid yet?
"Not many due to its electrical and soldering characteristics", chuckles Bob Rossi, PEI's Executive Vice President, "but should the need ever arise we are one of the few domestic etching sources available that does chemically etch titanium and other precious metals like karat gold."
Established in 1968, Photofabrication Engineering, Inc. ("PEI") is located in Milford, MA. PEI has ISO 9001:2008; AS9100 RevB and ITAR certifications. For more information about the firm's capabilities to domestically manufacture custom etched lids for seam sealed hermetic devices or to discuss other precision part capabilities please contact Brook Spaulding at 1-508-478-2025 x116 (email: bspaulding@photofabrication.com). One may also visit http://www.photofabrication.com or see the short YouTube video.
###