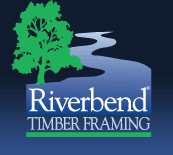 "It is always an honor to be recognized by the BSC," said Riverbend COO Jim Young, "especially when it is for our homes that go beyond the beautiful look and feel of traditional timber framing and provide client's an energy efficient structure."
(PRWEB) October 27, 2011
As the industry of home continues to develop more energy efficient methods of building, Riverbend Timber Framing has taken the lead by including Structural Insulated Paneling, or SIPs in the building of its homes. As a result, two of its homes were awarded in the 2011 BSC Excellence in Panelized Home Design program. These honors were awarded by the Building Systems Council (BSC) of the National Association of Home Builders (NAHB)—a trade association that represents industries including the Panelized Homes Council. The awards are judged by an independent panel of industry experts each year.
The first of these two awards presented to Riverbend was First Place for excellence in a home design with panelized home green building. This house was that of the Lefebvre home, erected in Canada. The second design award was an Honorable Mention awarded to a timber frame home located in Delaware for Excellence in Design for a panelized home built over 4,001 sq. ft.
"It is always an honor to be recognized by the BSC," said Riverbend COO Jim Young, "especially when it is for our homes that go beyond the beautiful look and feel of traditional timber framing and provide client's an energy efficient structure."
This year, the awards were renamed to honor Jerry Rouleau, a marketing authority and longtime advocate of the systems-built industry, who lost his battle to cancer this year.
"Receiving one of these prestigious awards not only elevates the winning company's stature, but it also enables them to receive national attention for their achievements," said 2011 BCS Chairman Harry Junk, a leading figure in the concrete building materials industry.
###