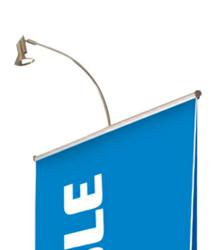 The light can fit on any standard retractable banner stand
Glendale, California (PRWEB) October 28, 2011
Digital Pre Press Services, Inc. announces its latest addition to its banner stand and sign site, DPSBanners.com. This new product falls into the banner stand light category and has an official name of Lumina 2 Banner Stand Light.
Digital Pre Press Services, Inc. made the decision to include the Lumina 2 banner stand light on the site as another option due to its design and low voltage bulb option. The new banner stand light uses an MR16, 50 watt bulb which works great for high output and less energy consumption.
The Lumina 2 banner stand light also incorporates many of the design aspects that professionals look for when utilizing lights on their banner stand displays. Banner stand lights should be seamlessly integrated into the display, not stand out and take the focus off of the graphic. The Lumina 2 does an excellent job of providing the light that is needed without stealing the show. Its slim-lined, clean appearance simply flows with the banner stand display rather than look like a single unit.
In addition to its look and output function, this banner stand light is also highly versatile in its stand range. The light can fit on any standard retractable banner stand.
Trade show professionals, retail stores, vendors and more can all benefit from the Lumina 2 banner stand light. As competition grows among companies vying for consumer's attention, additional display options such as banner stand lights are becoming a standard rather than the exception.
For additional information regarding the Lumina 2 banner stand light kit or any products Digital Pre Press Services, Inc. offers, please visit http://www.DPSBanners.com.
About Digital Pre-Press Services, Inc.:
Founded in 1996, Digital Pre-Press Services, Inc. is visible online at DPSBanners.com and on location in Glendale, California. The company provides simple, affordable and professionally designed banners that can be personalized and customized exclusively online. Through the site, DPS has a wide array of products including banner stands, window clings, car magnets, retractable banner stands, sidewalk signs, pre-designed banners and more.
Contact:
Digital Pre-Press Services, Inc.
Toll Free (888) 790-2665
Local (818) 240-2004
Fax (818) 240-3456
###