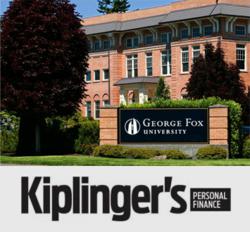 Newberg, Ore. (PRWEB) October 27, 2011
The value of a George Fox University education was reinforced this week by Kiplinger's Personal Finance magazine, which ranked the Oregon Christian university among the top 100 "best value" private universities in the nation.
George Fox ranked No. 80 overall and No. 4 among schools in the 113-member Council for Christian Colleges & Universities in the publication's "Private Universities" category. Princeton University and Yale University ranked No. 1 and 2, respectively, on the list of private universities that best combine outstanding quality with affordability.
Among CCCU colleges that earned a spot in the top-100 private universities list, only Union University (No. 61), Whitworth University (No. 62) and Point Loma Nazarene University (No. 67) ranked higher than George Fox, making the Oregon institution the highest-ranked Christian college in the state in Kiplinger's assessment of overall quality and value. Kiplinger also produces top-100 lists for liberal arts colleges and public colleges.
Each year, Kiplinger's assesses quality according to measurable standards, including the percentage of students who are admitted out of those who applied, the test scores of incoming freshmen, the ratio of students to faculty members, and the four- and five-year graduation rates.
This year, Kiplinger's adjusted its criteria to better reflect the issues affecting families. Now, the rankings give more weight to the four-year graduation rate – a measure of the college's ability to deliver academic support and of the overall cost to families – and to colleges that keep student debt down.
The formula to determine rankings considered cost and financial aid (31.25 percent), competitiveness (25 percent), academic support (12.5 percent), graduation rates (18.75 percent) and student indebtedness (12.5 percent).
"The institutions on Kiplinger's rankings for best value in private colleges represent schools that provide high-quality academics as well as affordable cost even in these tough times," said Jane Bennett Clark, senior associate editor for Kiplinger's Personal Finance. "With money tight and the college choice so important, you have every reason to expect the best bang for your buck."
On the surface, private colleges are too pricey for many families, charging an average total amount of about $37,000 a year, according to the College Board. But the net price – the amount families actually pay – runs far less, making even the most elite schools affordable for students who qualify for financial aid. For example, at George Fox, the average financial aid package of $21,749 reduces the total cost significantly.
In fact, George Fox's average debt at graduation ($18,428) was the lowest among CCCU schools in the private universities category.
The annual college rankings appear in the magazine's December issue, on newsstands Nov. 8. An expanded ranking with a total of 200 private institutions appears on Kiplinger's website, at kiplinger.com/links/college. Kiplinger's specializes in articles on savings and investments, taxes, money management, home ownership and many other personal finance topics, according to the magazine's website.
In addition to the Kiplinger's evaluation, George Fox is rated as a "Best Value" school by U.S. News & World Report in that publication's 2011-12 rankings, released in August.
George Fox University is ranked by Forbes and Kiplinger's among the top Christian colleges in the country and is a Christian university classified by U.S. News & World Report as a first tier regional university and a "Best Value" school. More than 3,500 students attend classes on the university's campus in Newberg, Ore., and at teaching centers in Portland, Salem, and Redmond, Ore., and Boise, Idaho. George Fox offers bachelor's degrees in more than 40 majors, degree-completion programs for working adults, five seminary degrees, and 11 master's and doctoral degrees.
Contact:
Rob Felton
Director of Public Information, George Fox University
503-554-2129
###