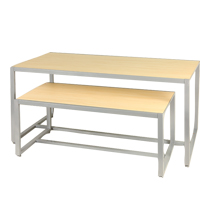 Specialty Store Services is always pleased to take suggestions for any products that will help business owners operate thriving and profitable retail stores.
Des Plaines, IL (PRWEB) October 29, 2011
Specialty Store Services continually searches for products that will provide creative and attractive solutions to its customers' retail display and merchandising concerns. The current catalog, released on October 21, 2011, features quite a few of these finds, including the following Maple Merchandise Displays, All in One Counter System and Rotating T-shirt Display.
The rich look of maple is paired with the clean lines of matte silver in Specialty Store Services' "Sophisticate Collection", the preferred displays for merchants projecting a contemporary, upscale atmosphere. This enticing melamine and metal collection is lightweight yet sturdy. Choose from three sizes of cube pedestal displays, ideal for showcasing accessories, collectibles, shoes and other smaller items. The nesting display tables create an attractive functional display when paired but are striking enough to hold their own if utilized separately. The final item in the Sophisticate Collection, the 5 Shelf Display, offers ample space to display a wide variety of merchandise but is sublty elegant enough to be unobtrusive.
The All in One Counter System offers cost-conscious business owners a glass front display, register stand and service counter all at a budget price. The 24" wide front glass area with sliding back doors features a 30" high display area with ¼" glass shelf and sliding doors, ideal for showcasing anything from jewelry and trinkets to chocolate and sweets. The 24" wide register stand has one drawer and open storage area while the 24" wide service counter boasts two adjustable shelves. Measuring 72"W x 18"D x 38"H, this compact yet functional All in One Counter, available in maple, cherry, black or white, is the perfect option for any business with big ideas but limited space.
The Rotating T-shirt Display is an ideal solution for the "so many T-shirts, so little space" dilemma. The rotating retail display works well in small, high traffic areas in businesses such as gift shops, novelty stores and convenience stores. The T-shirt display is only 23 ½"W x 23 ½"D so it takes up very little floor space but with 20 separate compartments, this retail display is able to hold a large variety of shirts. The rotating display features a unique acrylic front plate, which can display t-shirt graphics right next to the shirt compartments.
Specialty Store Services listens to its customers and is always pleased to take suggestions for any products that will help business owners operate thriving and profitable retail stores.
About Specialty Store Services
Specialty Store Services, a second-generation family owned business, offers everything necessary to operate a thriving retail store, from logistical solutions and retail supplies to custom and stock fixtures. Over the last 25 years this service-driven company has cultivated relationships with global partners while developing the expertise and knowledge required to provide competitive prices, outstanding customer service and quality products.
###