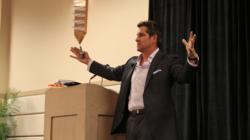 Los Angeles, CA (PRWEB) October 27, 2011
Automotive sales training expert and New York Times bestselling author, Grant Cardone was selected to deliver the keynote address to kick-off the San Antonio International Auto & Truck Show for the San Antonio Automobile Dealers Association (SAADA). Cardone was brought in to speak to the dealer body about what owners, managers and salespeople must do to surpass the increasing demands of the automobile consumer, increase market share and stabilize dealerships in a volatile economic environment.
"Getting the customer to come back to YOU and your dealership requires a polished approach because a car cannot be sold at the show," said Grant Cardone. "I will give dealers in attendance the knowledge to elevate themselves, their people and their game so they can achieve a higher level of success as a result of this event."
"We're excited to have someone of Grant Cardone's caliber speak to dealers this year", said Chad Worrel, General Sales Manager, Northside Ford. "We've employed Cardone's training at our dealership and have achieved nothing short of phenomenal results. The expectation for personal development and to exponentially drive a more meaningful level of customer engagement is running amongst the association's members."
The Auto Show will begin on Oct. 27, 2011 at 2 p.m. and close Oct. 30, 2011 at 7 p.m. at the Henry B. Gonzales Convention Center in San Antonio, Texas. People attending the show will be able to see the newest vehicles from car and truck manufacturers all over the world.
Comprised of 66 franchised new car and truck dealers, the San Antonio Automobile Dealers Association, Inc. promotes the interests and continued education of its members. The association builds public awareness and knowledge about the business of selling new motor vehicles with the goal of participating in fruitful activities that encourage and strengthen relationships between its members and customers.
About Grant Cardone
Grant Cardone is the leader in the automotive sales training category customizing sales training programs and working with organizations to create highly motivated, effectively trained sales forces that are able to increase sales in the new economy.
Cardone has been active in the automobile industry for many years on a variety of fronts. His work with NADA to get legislation passed that excluded automobile dealers from the Obama bank reform bill was a victory that had a positive impact on the entire industry.
He is regularly on Fox TV, CNBC and Fox Business defending auto dealers and providing common sense solutions for an economic recovery. A television program about rescuing businesses was developed around him and he's been featured on HGTV's new show, "Selling LA" and Joan Rivers' "How'd You Get So Rich." Cardone has also written four books since the 2008 financial crisis on what individuals and businesses must do to survive and prosper in the new economy.
###